'The Hateful Eight' Cast Adds Zoe Bell, James Parks, And Lee Horsley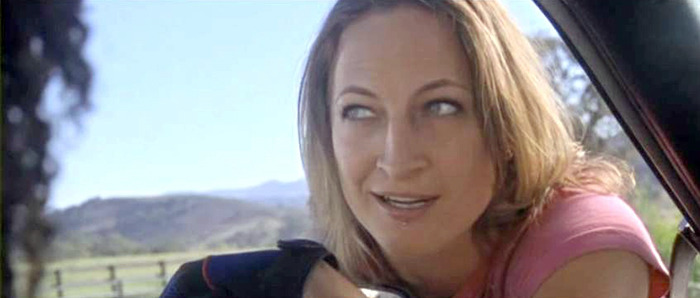 Quentin Tarantino has been rolling cameras in Colorado for his new film The Hateful Eight, and the beginning of production provides an opportunity for the reveal of additional cast members. We now know that a few Tarantino regulars and some new faces are in the cast, joining the lead players Samuel L. Jackson, Kurt Russell, Jennifer Jason Leigh, Walton Goggins, Demian Bichir, Tim Roth, Michael Madsen, Bruce Dern and Channing Tatum.
The Wrap passes on word that Zoe Bell (Death Proof) and James Parks (Kill Bill) have roles. In addition, Django Unchained players Dana Gourrier, Keith Jefferson, Lee Horsley, Craig Stark and Belinda Owino will be seen, as well as Gene Jones (No Country for Old Men). Some of these actors, particularly Bell, were expected to show up, but we're happy to have the confirmation.
Tarantino wrote The Hateful Eight and famously saw the first draft of the script leaked online, which led him to cancel plans for the film before a live-read event and a slight rewrite helped revive the movie. The film is being shot in 70mm, and is expected to be released later this year.
Here's a fairly long synopsis for the film, which explains quite a few of the primary roles.
In "The Hateful Eight," set six or eight or twelve years after the Civil War, a stagecoach hurtles through the wintry Wyoming landscape. The passengers, bounty hunter John Ruth (Russell) and his fugitive Daisy Domergue (Leigh), race towards the town of Red Rock where Ruth, known in these parts as "The Hangman," will bring Domergue to justice. Along the road, they encounter two strangers: Major Marquis Warren (Jackson), a black former union soldier turned infamous bounty hunter, and Chris Mannix (Goggins), a southern renegade who claims to be the town's new Sheriff.
Losing their lead on the blizzard, Ruth, Domergue, Warren and Mannix seek refuge at Minnie's Haberdashery, a stagecoach stopover on a mountain pass. When they arrive at Minnie's, they are greeted not by the proprietor but by four unfamiliar faces — Bob (Bichir), who's taking care of Minnie's while she's visiting her mother, is holed up with Oswaldo Mobray (Roth), the hangman of Red Rock, cow-puncher Joe Gage (Madsen) and Confederate General Sanford Smithers (Dern). As the storm overtakes the mountainside stopover, our eight travelers come to learn they may not make it to Red Rock after all...