'She's Funny That Way' Trailer: Peter Bogdanovich Returns With Owen Wilson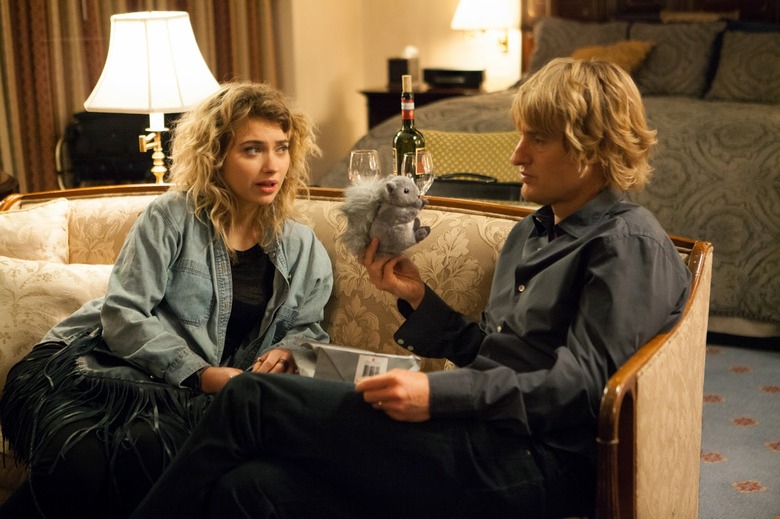 For the first time since 2001, we have a new Peter Bogdanovich film arriving this year. She's Funny That Way (formerly titled Squirrels to the Nuts, a reference to Ernst Lubitsch's Cluny Brown) stars Owen Wilson as Arnold, a theater director who gets involved with an escort and aspiring actress (Imogen Poots) whose therapist (Jennifer Aniston) is dating his playwright (Will Forte) — who, in turn, begins to fall for the escort.
Meanwhile, Arnold tries to duck the wrath of his wife (Kathryn Hahn), who's also his star, along with her ex (Rhys Ifans). Lucy Punch is somehow involved as well. It's a lot to keep track of, so see if you can keep up with the She's Funny That Way trailer after the jump.
The first Shes Funny That Way trailer premiered on Yahoo.
While it's great to see Bogdanovich back at work, this... doesn't look like his best. The cast is solid, aside from Poots' shaky Brooklyn accent, but the jokes seem obvious and stale. And the reviews from the film's Venice premiere suggest this isn't just a poorly cut trailer. The reception was mostly tepid. If you're wondering why you haven't heard much about the long-awaited new film from a celebrated filmmaker, well, that's probably why.
This lack of depth even by the standards of a flighty genre would matter less if the film were more consistently hilarious. For every comic zinger or setpiece that lands just right, there's at least one other that falls ever so slightly behind the beat.
THR:
Removing expectations based on Bogdanovich's own cherished career highs will probably allow many audiences to have an OK time here. But She's Funny That Way just isn't quite funny or inspired enough.
Another comedy tainted by a weird retro sexism is Peter Bogdanovich's "She's Funny That Way," a film that represents my single biggest disappointment at Venice.
Sorry, but in what world does this all hang together? Maybe if we were too busy laughing to notice, but the gags aren't quite that good.
But hey, at least a few people liked it. Here's Telegraph:
Bogdanovich is dreaming here – the same kind of movie-steeped dreams that manifested in his What's Up Doc? (1972) – but with pillows this fluffy and company this good, who could resist dreaming with him?
She's Funny That Way opens April 10.