/Film Interview: George Lucas Talks 'Strange Magic' And Passing The 'Star Wars' Torch, Plus Elijah Kelley, Evan Rachel Wood And Alan Cumming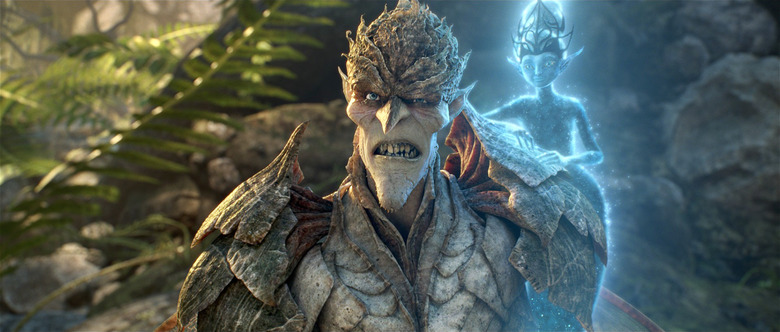 The first Lucasfilm movie announced by Disney after the acquisition was Star Wars: The Force Awakens. But the first Lucasfilm feature released by Disney is this weekend's Strange Magic. First conceived by George Lucas over a decade ago, the animated musical delves into a fantasy world populated by lovelorn elves, feisty fairies, and embittered goblins.
During a recent press day in New York, I got the opportunity to sit down with Mr. Lucas himself, as well as Strange Magic stars Elijah Kelley, Evan Rachel Wood, and Alan Cumming to talk love, music, and of course, Star Wars. Watch the video interviews after the jump. 
First, here's my chat with Lucas and Kelley. While Lucas didn't direct Strange Magic (those duties went to Gary Rydstrom), it's clear he feels a strong connection to this love story he's been working on for the past 15 years. Lucas explained how the film finally came to be after years of rumors. He also spoke about his feelings on passing the Star Wars torch to other filmmakers like J.J. Abrams, Gareth Edwards, and Josh Trank.
Meanwhile, Kelley, who starred in Lucas' Red Tails, filled me in on his reunion with Lucas. He voices Sunny, the unlikely romantic hero of Strange Magic.
I also got the chance to speak with Wood and Cumming, who like Lucas and Kelley have been working on Strange Magic for years. Wood voices adventurous fairy Marianne, and Cumming plays the angry Bog King. Turns out it doesn't take much to get these two to break into song. They also take the opportunity to kick-start a comeback for ELO.
Disney releases Strange Magic into theaters this weekend via its Touchstone Pictures division. Meredith Anne Bull, Sam Palladio, Kristin Chenoweth, Maya Rudolph, and Peter Stormare also lend their voices to the fairy tale.