Star Wars Bits: Standalone Rumors, Force Awakens Art And Celebration Events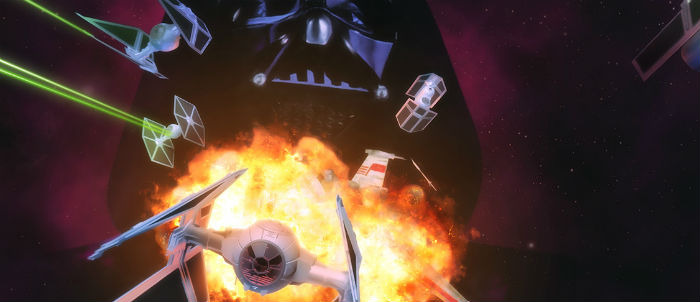 When an installment of Star Wars Bits contains possible Force Awakens spoilers and love connections, you know it's going to be good. Below, read about the following:
Gareth Edwards' Star Wars standalone could have lots of location shooting.
Actress Leanne Best has reportedly been revealed as a cast member of The Force Awakens.
Artist Robert Bailey posts some beautiful Force Awakens images.
Watch Dave Filoni, Henry Gilroy and Kilian Plunkett talk Rebels, Clone Wars and Star Wars #1.
There will be at least seven new Lego sets for Star Wars: The Force Awakens, plus news on other sets.
Marvel may, in the future, do Star Wars stories during the prequel era.
Several old Star Wars games are now available digitally for the first time.
Star Wars: A New Hope will screen in Navajo at Star Wars Celebration.
Star Wars speed dating. Yes, you read that right.
Read what may be a massive spoiler from The Force Awakens.
Fresh off Tuesday's news of potential casting in Gareth Edwards' mysterious 2016 Star Wars standalone film comes a few other mini-nuggets of information about the film. Making Star Wars reports crew members are beginning to get their schedules for the production and that many believe this film will have more location shooting than The Force Awakens. There's also a rumor some of that filming might take place in Mexico.
The same story also reports The Force Awakens is doing some additional photography, which could mean anything. Most big films have additional shooting planned from the beginning at this point.
One of the actors who may be taking part in that is Leanne Best, who can currently be seen in The Woman in Black 2. A PR e-mail reported on by Total Geeks reveals she has a part in the J.J. Abrams directed film. No word on what that part is, of course.
Official Disney and Lucasfilm artist Robert Bailey has been posting artistic representations from Star Wars: The Force Awakens on his Facebook. Two of the images, seen below, are just images from the trailer, redrawn. But the artist mistakenly posted some color images of X-Wings that may or may not have been the film. They've been removed, but Star Wars 7 News has them.
Making Star Wars went to an event tied to Star Wars #1 recently where Dave Filoni, Henry Gilroy and Kilian Plunkett talked about the world of Star Wars including Star Wars Rebels and Star Wars Clone Wars. Check out the video.
Lego announced some new 2015 sets at London Toy Fair recently and The Brick Fan wrote about them. Among the titles are Death Star Final Duel, Imperial Shuttle Tydirium and the Imperial Assault Carrier. Also, it was revealed there will be seven sets tied to The Force Awakens. No specifics about those were revealed though.
Marvel's Star Wars comics are starting to become hits and in a new blog post, Marvel editor Jordan D. White talks about them. Among the revelations are that while there are no immediate plans to do stories set during the prequel era, there are ideas being talked about. Thanks to JediNews for the heads up.
Classic Star Wars games X-Wing vs. Tie Fighter, X-Wing Alliance, and Galactic Battlegrounds Saga, have just become available digitally for the first time. You can download them at GOG.com.
Star Wars Celebration continues to reveal cool, unique events that'll take place in Anaheim this April. Among the biggest yet is an ultra rare (I think the second time ever?) screening of Star Wars: A New Hope in Navajo. Read more about it at this link.
Also – there's going to be Star Wars Celebration Speed Dating. The site says "If the Rebels can blow up the Death Star in eleven minutes, let's see if you can make a love connection in only three." Read more at that link.
Last but not least, we love to end on a spoiler and Star Wars 7 News has a doozie. They claim to have seen a piece of tech from the film that would play a key role in the final act, if it's real. No specifics here. Just a link and the promise that, if true, it's a huge spoiler.