Sacha Baron Cohen's 'Grimsby' Delayed To 2016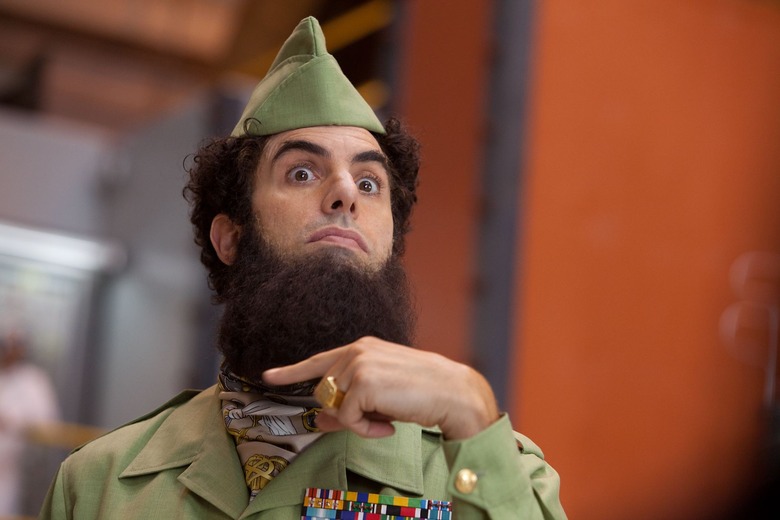 Aside from a small cameo in Anchorman 2, Sacha Baron Cohen hasn't been seen on the big screen since 2012. And that's not going to change this year, either, as his soccer hooligan comedy Grimsby has just been moved to 2016. More on the new Grimsby release date after the jump.
Exhibitor Relations noted the updated Grimsby release date.
Sacha Baron Cohen's GRIMSBY has been pushed back 7 months and will now open Feb. 26, 2016 instead of this summer.

— Exhibitor Relations Co. (@ERCboxoffice) January 21, 2015


Grimsby was originally slated to open July 31 of this year, opposite the Tarsem Singh thriller Self/Less, the Antoine Fuqua boxing drama Southpaw, and the action remake Point Break. Its only competition so far in the new February 26, 2016 date is Paramount's Ben-Hur remake.
The move doesn't seem to bode well for Grimsby. The film shot last summer, and it's unclear why it's now being postponed to next year. Then again, maybe Sony just wants to give it more breathing room in February, rather than risk having it get lost in the crowded summer months.
Directed by Louis Leterrier, Grimsby centers on a soccer hooligan (or football hooligan, I guess) played by Cohen who goes on the run with his formerly estranged brother, a British black-ops agent played by Mark Strong. No official stills have been released, much less a trailer, but behind-the-scenes pics show Cohen sporting a truly unfortunate haircut. Also starring are Ian McShane, Penelope Cruz, Rebel Wilson, Gabourey Sidibe, and Cohen's wife Isla Fisher.
For their part, residents of the real-life town of Grimsby are already grumbling about the movie. In particular, they seem to take issue with the fact that Cohen hired "enormous and revolting" extras to represent the locals. Politician Austin Mitchell complained, "Why pick on us? There are other places where obesity is a problem where they've got a rough deal. Why is Grimsby picked on all the time?"
But some others are taking it in stride. "If you can't take the piss out of yourself every now and again then there's something seriously up," said one local. "I do [however] think Sacha Baron Cohen is a t**t, but I thought that long before this film's existence."