Watch: Sundance Coming-Of-Age Pic 'Dope' Gets An Energetic First Trailer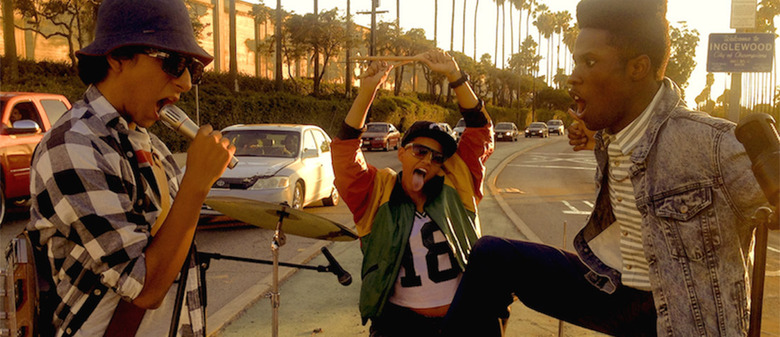 With the Sundance Film Festival slated to kick off tomorrow, we have a fun first look at one of this year's under-the-radar treats. Dope stars Shameik Moore as a teenage geek named Malcolm growing up in a rough neighborhood in Inglewood, California. He winds up in a sticky situation after attending a party where a drug deal goes sour.
Also starring are Zoë Kravitz, Tony Revolori (The Grand Budapest Hotel), Blake Anderson (Workaholics) Keith Stanfield (Short Term 12), and rapper A$AP Rocky. Pharrell contributed to the soundtrack. Watch the Dope trailer after the jump. 
EW unveiled the first Dope trailer.
Writer-director Rick Famuyiwa says he was inspired in part by his own youth in Inglewood, and that he wanted to highlight a different type of coming-of-age narrative. "We've seen a lot of films about everything else in these neighborhoods—the crime, the athletes, the gangs—but you don't see films about the regular kids who have to survive in these streets," he told EW.
Famuyiwa describes Malcolm as "a Nineties hip-hop geek" who "isn't a drug dealer or a gang banger. He's into all types of music, and video games and computers." The film itself, he calls a "sort of homage" to Paul Thomas Anderson, Wes Anderson, and their "personal, character-driven aesthetic."
Here's the synopsis from Sundance:
Malcolm is a high school geek with a high-top fade, carefully navigating life in The Bottoms, one of the toughest neighborhoods in Inglewood, California. He and his fellow outcasts share a voracious appreciation for all things '90s hip-hop, opting to sport Cross-Colours and Z. Cavariccis at the risk of being clowned at school. He dreams of attending Harvard, but first he has to make it home every day. When a drug dealer takes a shine to Malcolm and invites him to his birthday party, Malcolm's crew is swirled into a hilarious blender of offbeat characters and bad choices where redemption can only be found in Bitcoin.
Writer/director Rick Famuyiwa delivers an energetic, super-fresh, modern-day coming-of-age story that is a delightful mash-up of DIY punk, Yo! MTV Raps, YouTube, and Neil deGrasse Tyson. Intelligent and full of heart, Dope is an up-to-date inspirational tale of the journey to maintain a grasp on one's own authentic self amidst surreal circumstances.