'The Revenant' First Look: Leonardo DiCaprio Gets Dirty For Alejandro González Iñárritu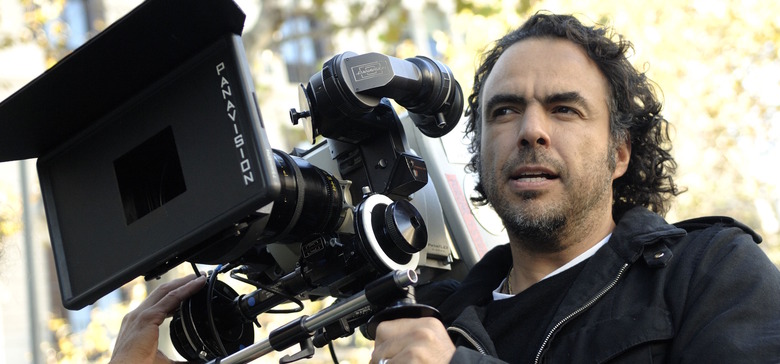 Alejandro González Iñárritu is not content to rest on his laurels. Even as his Birdman glides trough awards season picking up every nomination in sight, the director is off in Canada shooting his next film The Revenant.Leonardo DiCaprio, Tom Hardy, Will Poulter, and Domnhall Gleeson the 19th century revenge drama. Get your The Revenant first look after the jump. EW premiered The Revenant first look photos.
So far so good, but really all they tell us is that DiCaprio will be getting very very dirty for this movie.
The Revenant is based on the true story of Hugh Glass, an American fur trapper who is attacked by a grizzly bear in the 1820s. He's robbed and left for dead, but survives against all odds and vows to get back at the men who ditched him. Glass' ordeal was turned into a novel by Michael Punke, which serves as the source material for the movie.
Iñárritu had only nice things to say about his leading man to EW. "He's a brave, incredible actor. I'm so surprised about how good he is," he said. "I think there's a profound understanding of humanity that I can see through his eyes."
While Iñárritu isn't going back to the single-take device famously employed in Birdman, The Revenant offers its own ambitious challenges. In an effort to showcase nature in its purest form, Iñárritu and his cinematographer Emmanuel Lubezki (who worked with him on Birdman) are shooting only with natural light in remote locations — which means they can only film for a few hours a day.
"It's a fun ride," said Iñárritu. "It's a very experimental thing that we're doing here... I'm now addicted to doing things that can fail horribly or maybe that can give us a surprise. We are all into it."
Fox has The Revenant dated for December 25, and you know what that means: look for this one to make the awards season rounds in early 2016.