Rumor: Batman To Appear In 'Suicide Squad', Leading Up To His Own Solo Film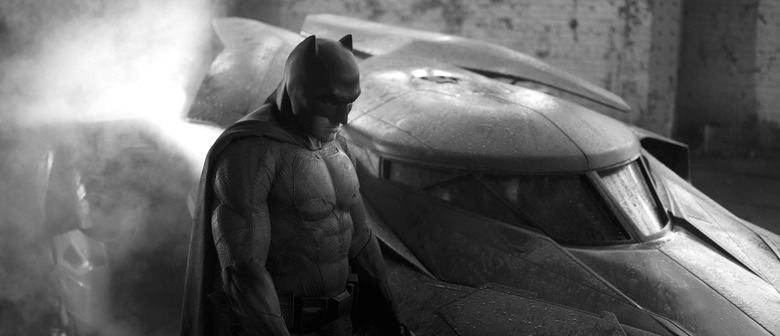 Warner Bros.'s supervillain team-up Suicide Squad may be welcoming a major superhero to its cast. Rumor has it Ben Affleck's Batman is set to appear in the film, which will then help set up his own solo outing. More details on the possible Batman Suicide Squad cameo after the jump. 
The Batman Suicide Squad rumor — and it is just a rumor at this point — comes from Forbes. We previously heard from Latino Review (possible spoilers at the link) that Batman might be seen on a video monitor in the film, but Forbes now says the Caped Crusader will appear "in the flesh." He'll likely come near the end, in a scene involving the Joker (played by Jared Leto).
This, in turn, will lay the groundwork for a solo Batman outing which will have the Joker as the main villain. According to Forbes, the film will be based on Frank Miller's The Dark Knight Returns, which introduces Ellen Yindel as the new Gotham police commissioner.
The idea of Batman appearing in Suicide Squad may sound like geek fantasy, but it seems plausible enough. Batman is one of DC's best-loved heroes, and so could help bring attention to the less famous Suicide Squad. His famous connection to the Joker justifies his presence on a narrative level. And it'd be a fun way to flesh out the DC universe before Warner Bros. launches the new Batman franchise.
As for when that'll be, it's unclear. Warner Bros. hasn't officially dated the new Batman solo outing, though it's rumored for 2019. Whether or not that pans out, it sounds like we'll be seeing a lot of the Bat in the coming years. The new Batman makes his debut in next year's Batman v Superman: Dawn of Justice, followed by two Justice League movies in 2017 and 2019.