'The Interview' Hits Netflix This Weekend; Did The VOD Release Lose Money For Sony?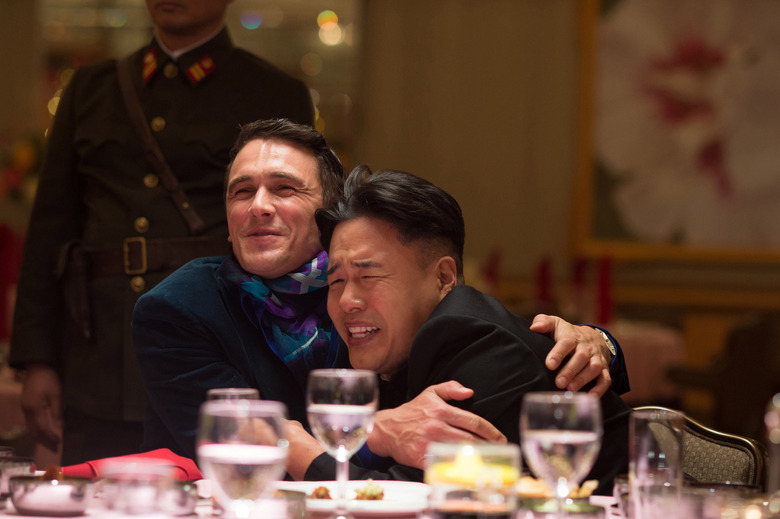 After original plans for a wide release got all screwed up, The Interview went on to become Sony's "#1 online film of all time." But it still wasn't enough to make The Interview turn a profit, according to the National Association of Theater Owners, which sounds all too pleased with their assessment.
Regardless, Sony is pressing on with The Interview's digital rollout, striking a deal to make the comedy available on Netflix just one month after its theatrical/VOD bow. More on The Interview Netflix debut and The Interview Sony losses after the jump. 
Patrick Corcoran, vice president of NATO, laid out his case in a column for BoxOffice. "In this simultaneous-release game, Sony is $30 million in the hole and almost out of cards," he wrote.
Sony had planned a traditional theatrical wide rollout for The Interview, but scrapped those plans after the group behind the Sony hack threatened violence. That decision brought widespread criticism from President Obama (among many others), and Sony wound up giving it a limited theatrical opening and a simultaneous VOD release. (That chain of events, by the way, is grossly misrepresented in Corcoran's article.)
According to THR, this pissed off major theater chains, who had wanted Sony to delay The Interview's release rather than cancel it outright. NATO refrained at the time from commenting publicly due to the sensitive nature of the situation, but Corcoran's piece now makes the group's views clear. "Game not changed," he crowed.
By Corcoran's estimates, here's what The Interview made:
$30 million from digital outlets (based on what Corcoran calls a "generous" total revenue estimate of $50 million; the studio itself has reported $40 million in sales and rentals so far)
$3.5 million from domestic ticket sales (based on an estimated final box office of $7 million; it's grossed $6 million so far)
$10 million from international ticket sales (a guess which Corcoran again calls "generous," and which is based on figures for Rogen's last several films)
And here's what The Interview cost:
$44 million production budget (based on leaked info; Sony insiders claim to THR the figure was closer to $40 million)
$30+ million marketing budget (Sony insiders claim the figure was closer to $20 million, but others dispute that)
In contrast, he argues, Sony stood to make about $12.5 million more had the traditional release proceeded as planned.
Corocoran's whole column is worth a read if you're curious about NATO's take on The Interview rollout. He crunches the numbers and concludes it's "game over" for simultaneous releases. Which seems kind of optimistic. Regardless of how The Interview did, it's unlikely that any one title will settle the question of release windows once and for all. But hey, he has to defend his people.
While he makes some good points about Sony's struggle to make its money back on The Interview, it hardly seems fair to point to this movie as evidence that day-and-date releases don't work for studios. Considering the film wasn't conceived of and (initially) marketed with a VOD release in mind — and considering the massive controversy surrounding it — Sony is probably just relieved it was able to recoup some of its costs.
In any case, Sony is embracing The Interview's popularity with people who are willing to watch movies on the Internet. Netflix CEO Reed Hastings has announced that the comedy will come to its streaming service just weeks after its initial release on VOD and in theaters.
"We are thrilled to offer exclusively the controversial comedy, The Interview, to our US and Canadian members beginning this Saturday, Jan. 24 – just thirty days after it debuted in theaters and pay-per-view," he wrote in a letter to shareholders (via THR).