'World War Z 2' Writer Teases A Whole New Story For Sequel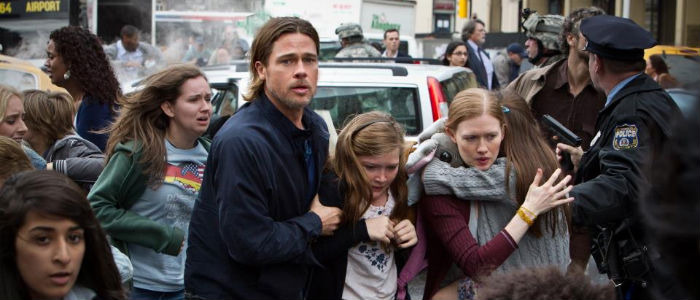 One of the biggest movie surprises of 2013 was the success of World War Z. The film hit theaters carrying some significant behind the scenes baggage, but ended up grossing over $200 million in the US and over $500 million internationally. It was a massive hit and talk of a sequel began to heat up soon after the film's release. Not much happened on that front during 2014 but now, we finally have a small update on World War Z 2, scheduled to be directed by Juan Antonio Bayona for a 2016 release.
Steven Knight, the writer and director of Locke, and writer of Eastern Promises, The Hundred-Foot Journey, Dirty Pretty Things and Seventh Son, is writing a treatment for the sequel. He suggested the film wouldn't be what fans are expecting. He said he's starting with a "clean slate." Read more about World War Z 2 below.
Knight was talking to Thompson on Hollywood about World War Z. Here's the excerpt:
He's writing the treatment for the sequel for Brad Pitt's Plan B's "World War Z," which is set to shoot in October for 2016 release. "I thought, 'why not? What fun.' It's not quite like the other, we're starting with clean slate. When they've signed off we're on."
The first film ended with Pitt's character figuring out how to mask normal humans from the zombies, allowing them to fight back. It was very much the first step in the titular war so there was obviously lots more story to tell. Stories of humanity rising up, defeating the zombies and restoring the world.
Yet, Knight's comments make it sound like maybe World War Z 2 won't follow that obvious trajectory. You have to assume Pitt's character is back in the lead – he's a big reason for the film's success in front and behind the camera. Will the sequel jump forward in time to a world where this problem is solved? Will it focus on another set of characters in a parallel story? We don't know, but Knight's quotes are very intriguing.
Are you looking forward to a World War Z sequel? What would you like to see happen?