'Powers' To Debut This Spring On PlayStation Network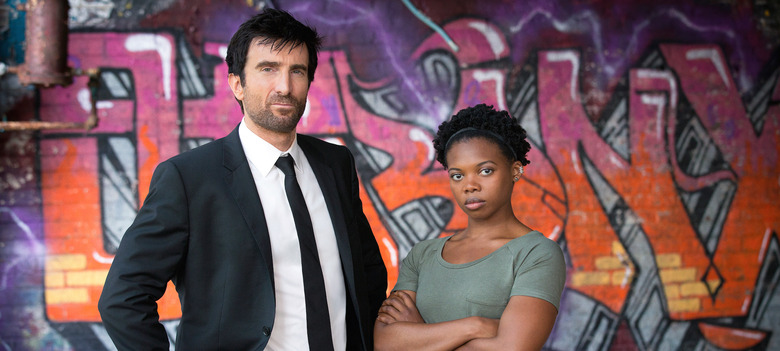 PlayStation will be powering on its first-ever original series this spring. The company has just announced a debut date for Powers, based on the comic book by Brian Michael Bendis and Michael Avon Oeming.
Sharlto Copley and Susan Heyward lead the drama as two police detectives working in the Powers division, which specializes in cases involving superhuman abilities. More details on the Powers PlayStation premiere after the jump. 
Sony is set to launch Powers on March 10 with the first three episodes. New episodes will follow each Tuesdays for a total of 10 hourlong installments this season.
The first episode will be free for everyone at PlayStation.com/Powers. Subsequent episodes can be purchased on the PlayStation Store. PlayStation Plus subscribers, who pay $50 for an annual pass, will get the full season at no additional charge.
Bendis is executive producing the series, which also stars Michelle Forbes, Eddie Izzard, Noah Taylor, Logan Browning, and Olyesa Rulin. Charlie Huston and Remi Aubuchon (Falling Skies) serve as showrunners. Oeming is a producer along with Michael Dinner and David Engel.
David Slade directed the first two episodes. All 10 episodes have already wrapped production. The budget, which is around $2 million per episode, is comparable to that of most primetime cable shows.
An adaptation of Powers has been in the works for the past 14 years. Initially it was in development as a movie, but when that failed to pan out the project was reworked as a TV series. FX ordered a pilot, and then another, but wasn't satisfied with either version. Eventually, Powers made its way to the PlayStation Network.
Here's a more detailed synopsis of the series:
Powers, an edgy dramatic series, follows the lives of two homicide detectives, Christian Walker and Deena Pilgrim, who are assigned to investigate cases involving people with superhuman abilities, referred to as "Powers." Set amidst today's paparazzi culture, Powers asks the questions, what if the world was full of superheroes who aren't actually heroic at all? What if all that power was just one more excuse for mischief, mayhem, murder, and endorsement deals?
Enter the men and women of the Powers Division, the brave people in charge of protecting humans like us and keeping the peace over commercialized, god-like men and women who glide through the sky imposing their power over the mortals who both worship and fear them.