'Fables' Gets 'Kick-Ass' Screenwriter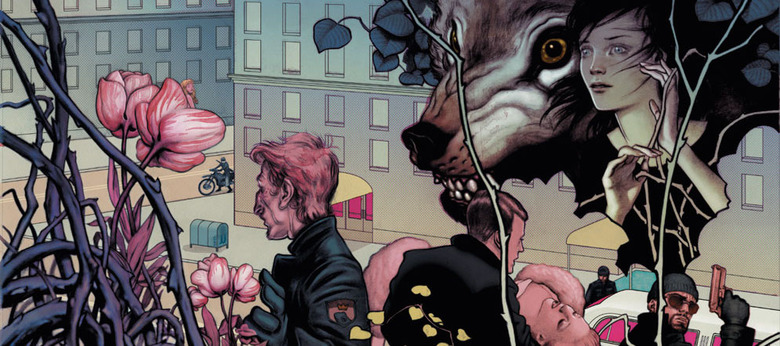 We may finally be inching closer to Fabletown. Kick-Ass screenwriter Jane Goldman has been hired to write the long-gestating Fables adaptation, which Nikolaj Arcel (The Royal Affair) will direct.
Based on the Vertigo Comics series by Bill Willingham, Fables centers around a community of fairy tale characters (or "Fables") who've been exiled from their homeland and now reside in modern-day New York. More on the new Fables screenwriter after the jump. 
Comic Book Resources got the Fables scoop from producer David Heyman:
[Arcel] did a draft, and now he's supervising Jane, who's doing a draft. Hoping that it'll come in and we'll be able to move to the next stage. All these things always take longer than you want. And 'Fables' is not easy, by any means, but I think it'll be pretty great.
Heyman also spoke about what attracted him to the property:
I'm drawn to stories about outsiders, and I think the Fables are outsiders. They're people torn from the place where they were raised, by The Adversary. They arrive in a New York City-type place, and how we're approaching is that they're people who are all separate, and how they ultimately have to form the community in order to survive. They're all inhabiting their own little universes within this world. But they have to form this community, and that really appealed to me. And I just think the characters are so vivid. And I also think the farm is, again, it's very human. That's what I like. It's a challenging film.
(The farm he refers to is the upstate New York outpost of the Fables community, which houses all of the non-human Fables who can't blend in in New York City — like the Three Little Pigs and the Three Bears.)
Heyman certainly knows his way around contemporary fantasy — he's best known for producing all eight Harry Potter movies. Goldman's credits include Kingsman: The Secret Service, X-Men: First Class, the Neil Gaiman adaptation Stardust, and the upcoming Miss Peregrine's Home for Peculiar Children.
An adaptation of Fables has been in the works for about a decade. NBC optioned the book for a potential TV series in 2005, but ultimately decided not to move forward with it; a few years later, ABC did the same thing in 2008. Both networks ultimately wound up with their own version of a "fairy tales in the modern world" series — Grimm at NBC, and Once Upon a Time at ABC.
Fables was then eyed for a movie adaptation, but it's been slow going. Arcel signed on to direct in summer 2013 and that was the last we heard about the project until now. At that time, Jeremy Slater (of the upcoming Fantastic Four reboot) was working on the script but it's unclear if Goldman and Arcel are now working off of his screenplay.