Patrick Stewart And Ian McKellen Won't Return For 'X-Men: Apocalypse'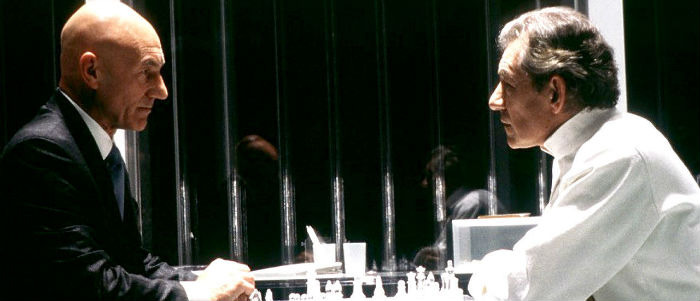 The return of the elder statesmen in the X-Universe was short-lived. After small but important roles in 2014's X-Men: Days of Future Past, Patrick Stewart and Ian McKellen won't be returning for 2016's follow-up, X-Men Apocalypse. Watch the statement and read more about the X-Men Apocalypse Patrick Stewart/Ian McKellen news below.
Yahoo Movies first reported on the lack of casting. Here's the clip:
If you can't get the video to work, Stewart said the following when asked about the film by Larry King:
No. Nor Sir Ian McKellen, either. I was learning quite a lot more about it last night, and it is going to be looking very much at the earlier lives of all our characters. And so I don't think we'll be making an appearance.
Now, of course, this makes partial sense. The main reason Stewart and McKellen appeared in X-Men: Days of Future Past was because they were playing the older version of their younger characters, played by James McAvoy and Michael Fassbender. The film ends with the timeline reset and everyone set in the new "present."
X-Men Apocalypse doesn't take place in the present, though. It takes place in the 1980s, sometimes between the third act of Days of Future Past and the very end, where Stewart is back. So Professor X and Magneto will be younger than Stewart and McKellen. McAvoy and Fassbender will be back, once again directed by Bryan Singer.
The question then becomes, have we seen the last of Stewart and McKellen as these characters? It seems possible. You know Fox wants to continue with the younger class of characters, especially since they'll be recasting several of the more important X-Men in this movie too (Cyclops, Jean Grey and Storm specifically). But there are other spin-offs and timelines so anything is possible. Maybe they appear again but who knows?
Are you surprised at the X-Men: Apocalypse Patrick Stewart Ian McKellen news?