Sheryl Lee And Dana Ashbrook Return To 'Twin Peaks'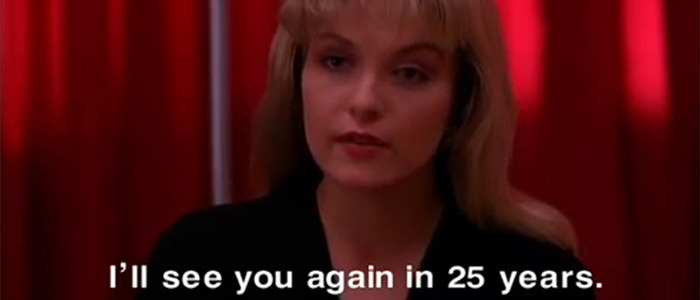 Two more original residents of Twin Peaks are going back to the town (or at least the show) for its return in 2016. Sheryl Lee, who played both Laura Palmer and Maddy Ferguson, was given the all-clear by writer/director David Lynch to announce that she and Dana Ashbook, who played Bobby Briggs, are both part of the cast for Twin Peaks season 3. Below, watch the pair announce that to an audience of Twin Peaks fans, in a Q&A that also suggests Sherilyn Fenn is set to return as Audrey as well.
Rumor that Lee would return to the show cropped up earlier this week when Kyle MacLachlan's own return was announced by Showtime at the channel's TCA presentation. Given that it was Lee's character who prophesized the show's return in the first place (above), it makes sense that she would come back.
Here's a video of the two on stage at the Twin Peaks UK Festival, where Ashbrook mentions Sherilyn Fenn also saying she's going back to Twin Peaks:
Watch how Sheryl Lee and Dana Ashbrook officially announce their involvement (and possibly also Sherilyn Fenn's) in the new Twin Peaks. Video by Nicolai Kornum. #TwinPeaks #TwinPeaks2016 #SherylLee #DanaAshbrook
A video posted by Twin Peaks (@welcometotwinpeaks) on
There's a lot more to their appearance than that — here's the full 45-minute Q&A via Welcome to Twin Peaks.
***
OK, the Twin Peaks spoiler talk starts here.
Obviously Lee's character Laura Palmer is dead — her death is what opens the show and drives the plot — but there's more to talk and wonder about. In fact both her characters are dead, but there's reason to assume that some version of Laura is still trapped in the Black Lodge / Red Room, which is more than enough of an excuse to bring her back. She pretty much has to be part of the new story. And the fate of Sherilyn Fenn's character, Audrey Horne, was left uncertain at the end of the show's original run. The last episodes of the show suggest her death, but we don't explicitly see what happened to her, so there's some wiggle room.
 ***
Twin Peaks, written by Mark Frost and David Lynch and directed by Lynch, will return as a nine-episode show in 2016, broadcast by Showtime.