Sam Rockwell Calls The 'Poltergeist' Remake "More Of A Kids Movie"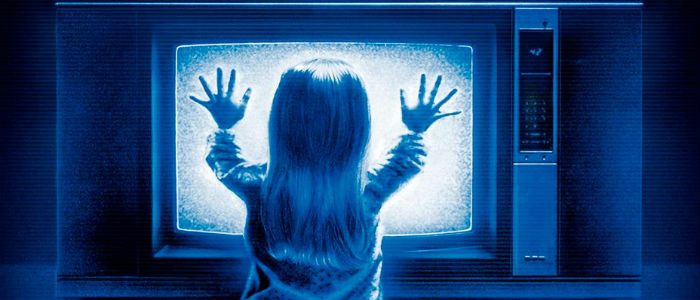 In 1982, Tobe Hooper's Poltergeist was rated PG. There's no real violence, no real language so that rating sort of made sense. A PG rating probably let parents think the movie was family appropriate. Of course, we know that it's not. It's a horrifying movie, putting kids in all kinds of peril and if it was released today, it almost surely would have been rated at least PG-13.
Over thirty years later, Poltergeist has been remade and, according to one of its stars, it might be more inline with that original rating rather than the original movie. Sam Rockwell said the new film, directed by Gil Kenan and set for release July 24, 2015, is "more of a kids movie." He said it's not as scary as something like The Conjuring and is basically an "adventure." Interesting. Read more Poltergeist remake news below.
Collider talked to Rockwell on the occasion of his new movie, Loitering with Intent, and got around to the Poltergeist remake. First has he seen any of the footage:
I've seen a little in looping. I hope it's good. I really don't know. I really wish I could tell you. I'm praying that it's – I mean, it's gonna be hard to live up to the first one. The first one's pretty damn good. This one's gonna be in 3D though, I can tell you that.
The actor then added a bit more about the film's protagonist and angle:
The 10-year-old boy is really the protagonist this time. JoBeth Williams was the protagonist for the most part in the first one and now the kid, it's really through his point-of-view. So it's more of a kids' movie so I don't know if it's gonna be like rated-R scary.
The first wasn't R-rated scary, as mentioned above, but it was pretty damn scary. Rockwell elaborates:
It's not like Conjuring type of scary. You know, it's a different kind of movie. It's more of an adventure. It's essentially a child abduction film when you come down to it. I mean, the original Poltergeist is too.
The Poltergeist remake is, in fact, PG-13 as per FilmRatings.com. It's rated PG-13 for "intense frightening sequences, brief suggestive material, and some language." That sounds like there's potential, and maybe Rockwell is just curbing expectations.
What do you think about Rockwell's quotes regarding the Poltergeist remake?