POTD: Phil Lord And Chris Miller React To 'The Lego Movie' Oscar Snub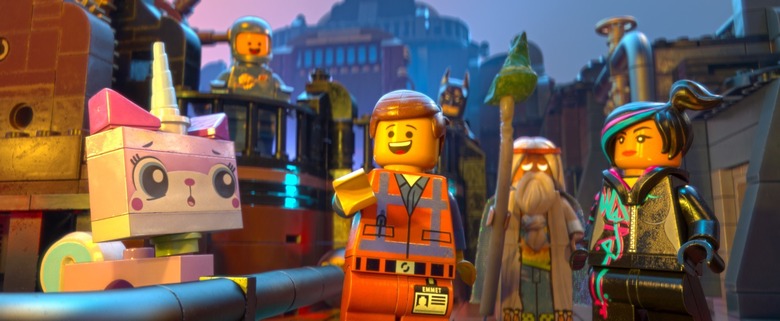 One of the more surprising omissions from this morning's Oscar nominations was The Lego Movie. Despite its immense popularity with both critics and general audiences last year, The Lego Movie somehow failed to secure a nomination for Best Animated Feature.
But it's okay, because when the bad news came, co-director Phil Lord reacted the way any Master Builder would: he built his own. Meanwhile, co-director Chris Miller chose to celebrate the Oscar nomination it did get — Best Original Song, for "Everything Is Awesome." See their reactions to the Lego Movie snub after the jump. 
It's okay. Made my own! pic.twitter.com/kgyu1GRHGR

— Phil Lord #BlackLivesMatter #StopAsianHate (@philiplord) January 15, 2015
Congrats to "Everything is Awesome" though currently the title of the song doesn't seem especially accurate!

— Christopher Miller (@chrizmillr) January 15, 2015
This is not a tragedy. Congrats to incredible crew and cast of The Lego Movie, who made a classic.

— Phil Lord (@philiplord) January 15, 2015
Imma let you finish but the Lego Movie had one of the best crews of all time. Of all time.

— Christopher Miller (@chrizmillr) January 15, 2015
The Lego Movie was a massive success by any measure. It scored a 96% on Rotten Tomatoes, an 83 on Metacritic, and an A on Cinemascore. It earned $468 million at the global box office (making it the fourth-highest domestic grosser of the year) and landed on countless year-end top 10 lists.
All of which is to say it's surprising The Lego Movie didn't fare better with the Academy. On the other hand, it's hard to begrudge the films that did make it: Big Hero 6, The Boxtrolls, How to Train Your Dragon 2, Song of the Sea, and The Tale of the Princess Kaguya. There isn't one obvious dud that should have been left out.
In any case, with or without Oscar recognition, I'm inclined to agree with Miller. The Lego Movie is a classic. Even if the only Oscar they take home winds up being the one they built themselves.