19 Day Long 'Saturday Night Live' Marathon To Lead To 40th Anniversary Premiere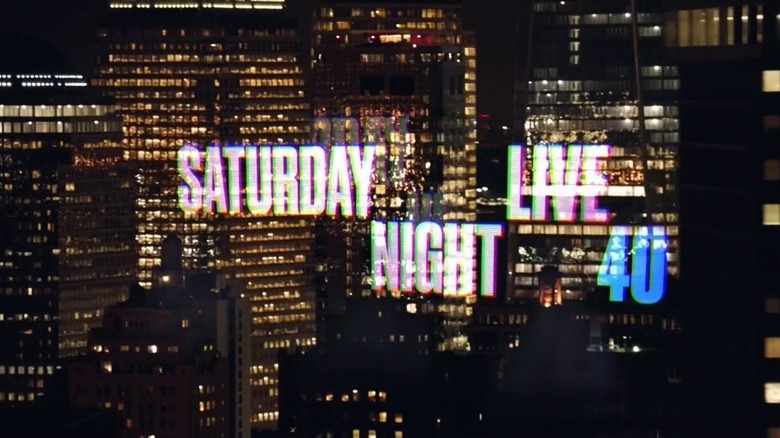 When FXX ran their 12 day 552-episode marathon of every episode of The Simpsons, I knew we would get some copycats. But there aren't many television shows that have enough hours of content to compete with Matt Groening's animated juggernaut. But there is Saturday Night Live, which will be celebrating their 40th season in 2015. Viacom is celebrating (ie building buzz) by airing all 433 hours of SNL in a back-to-back marathon which will span 19 days and two networks. Details about the Saturday Night Live marathon after the jump.
Here is the full Saturday Night Live marathon press release:
19 DAYS OF BACK-TO-BACK SNL EPISODES KICK OFF WEDNESDAY, JANUARY 28TH ON VH1 CLASSIC
433 Hours of SNL, 19 Days, 2 Networks
NEW YORK (January 14, 2015) – VH1 Classic celebrates the 40th anniversary of the longest-running sketch comedy show in history by bringing fans 40 years of "SNL" in one place: "The SNL Rewind: 2015 – 1975 Mega-Marathon" beginning Wednesday, January 28th and wrapping on Sunday, February 15th.
Fans can relive the best moments (or binge on all the ones you missed) of "SNL" history with 19 days of back-to-back SNL episodes in this 433-hour "SNL" marathon — the longest ever mounted for a single series on television ever.
Starting with season 39 and working back to season 1 from 1975, VH1 Classic will bring fans the most loved moments and original skits that became cultural juggernauts. The last episode of the marathon will be "SNL's" first episode ever, hosted by the late George Carlin, originally aired live on October 11th, 1975. VH1 Classic will air it on Sunday, February 15 from 6:30 – 8:00 p.m., leading up to NBC's three-hour special (8-11 p.m.) celebrating 40 years of "Saturday Night Live."
The marathon showcases 40 seasons of Not Ready For Primetime Players many of whom are now known around the world: Chevy Chase, Eddie Murphy, Billy Crystal, Dana Carvey, Mike Myers, Will Ferrell, Adam Sandler, Kristen Wiig, Tina Fey, Amy Poehler, Jimmy Fallon, and Seth Meyers. VH1 Classic will deliver the best moments — which will leave fans demanding "even more cowbell."
"Building a 19-day marathon seemed pretty daunting at first, but when we started mapping it out the days filled up quickly," said Ben Zurier, Executive Vice President, Programming Strategy for VH1, VH1 Classic and Palladia. "There are so many tremendous stars, memorable characters, great music performances and unmatched comedy writing, that my biggest concern now is about all the great stuff we didn't find room for!"
Special themed blocks dot the 19-day schedule, giving viewers a deeper dive into the classic episodes featuring a particular host, skit or musical artist:
Saturday, January 31 (4 PM – 10 PM)
Six episodes featuring pop superstar Justin Timberlake, now one of "SNL's" most popular guest hosts.
Tuesday, February 3 (6 AM – 2 PM)
An eight-hour celebration of some of the biggest pop artists in the world, including Christina Aguilera, Black Eyed Peas, Maroon 5, John Mayer, Pink, Britney Spears and Usher.
Friday, February 6 (2:30 PM – 10 PM)
Former "SNL" cast members return to take on host duties. Featuring Dana Carvey, Chevy Chase, Phil Hartman, Mike Myers and Martin Short.
Saturday, February 7th (12-10pm)
"Remembering Chris Farley": Highlights from Farley's brilliant "SNL" career including Chippendales dancer, insightful interviewer on 'The Chris Farley Show,' graceful Lunch Lady, beautiful Gap Girl, and Chicago Bears Super Fan.
Sunday, February 8 (1 PM – 12:30 AM)
Party Time! Thirteen straight episodes featuring legendary sketch "Wayne's World," starring Wayne Campbell (Mike Myers) and Garth Algar (Dana Carvey) direct from the basement studio in Aurora, Illinois.
Wednesday, February 11 (9:30 AM – 12:30 AM)
"The Eddie Murphy Years": Mr. Robinson, Buckwheat, Gumby, Dion and more of Murphy's legendary characters from the 1981-1984 seasons, not to mention a visit to "James Brown's Celebrity Hot Tub Party."
Saturday, February 14 (2:30 PM – 10 PM)
Five episodes hosted by Steve Martin from the series' first three seasons – featuring Georg Festrunk: the original "Wild and Crazy Guy."
Each Saturday of the 19-day marathon, VH1 Classic will take a break from 10 pm to 1 am to show a film starring an SNL alum:
Saturday, January 31 at 10 PM "Macgruber" (Will Forte, Kristen Wiig); 11:30 PM "Black Sheep" (Chris Farley, David Spade)
Saturday, Feb. 7 at 10 PM – "Trading Places" (Eddie Murphy)
Saturday, Feb. 14 at 10 PM – "The Blues Brothers" (John Belushi, Dan Aykroyd)
VH1 will also join the party with a marathon of retrospective specials by decade for at least 10 hours on Sunday, February 15th, ending at 8pm.
In addition, Fan favorite episodes will be available on vh1.com & the VH1 App throughout the marathon time period.
VH1.com will support with daily posts including category countdowns such as "Best Character" and "Best Make Out." Series clips will also be featured in the "Last Lap" evening news roundup.
Fans can follow @VH1Classic on Facebook, Instagram, and Twitter to engage with and commemorate the best of SNL throughout the marathon including:
The "#SNLClassic Best Character Ever "Tournament" is a 19-day interactive bracket, hosted by VH1.com, igniting fans to 'vote' each day on the greatest SNL character of all time.
"Pop Up #SNLClassic" will serve up exclusive original 'pop-up video' style shareable content, giving fans the behind-the-scenes perspective.
"SNL" Surprise Social Hosts will take over @Vh1Classic social channels to interact live with fans and give insider commentary.
"Soundtrack to #SNLClassic" on Spotify provides the definitive tracks from the iconic musical guests spanning each decade of SNL.
For more information on the "SNL Rewind 2015 – 1975" VH1 Classic, or VH1, visit SNL.VH1.com.
"Saturday Night Live" has won 40 Emmy Awards, the most for any show in television history. "SNL" also holds the title for the most nominated television show in Emmy history with 171 nominations. "SNL" has been honored twice, in 1990 and 2009, with the prestigious George Foster Peabody Award and cited as "truly a national institution."