Watch ILM's New Opening For 'Jimmy Kimmel Live'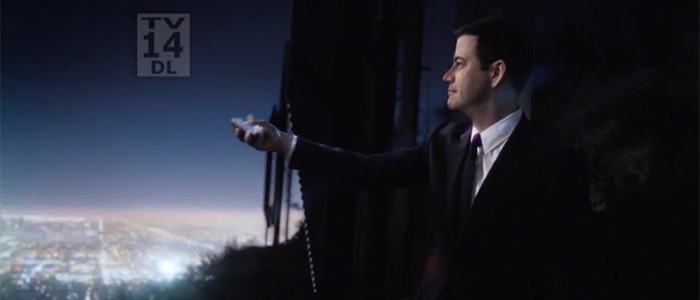 Films destroy and rebuild Los Angeles all the time, but usually it is for nefarious purposes. The producers of Jimmy Kimmel Live hired ILM to disassemble and rebuild Hollywood landmarks for the show's new opening, which debuted last night. Check out the benevolent rebuild of Hollywood in the video featuring the new Kimmel opening below.
Here's what the show's YouTube channel has to say about the new open.
George Lucas' company Industrial Light and Magic helped us make our new show open. We had to bring in the greatest special effects team in history to digitally remove the urinating superheroes from Hollywood Boulevard. Thank you ILM!
In truth this video is somewhat disturbing, as it paints Kimmel as a sort of gentle god. (We hope he's gentle.) He turns on the city at night, and eventually beckons his audience through the not-quite pearly gates of the El Capitan Entertainment Centre into what looks like a blinding white afterlife. His theater was originally the Hollywood Masonic Temple, so if you're the type to go in for Illuminati theories you'll probably have the shakes by the end of this clip.