Ansel Elgort Will Star In Edgar Wright's 'Baby Driver'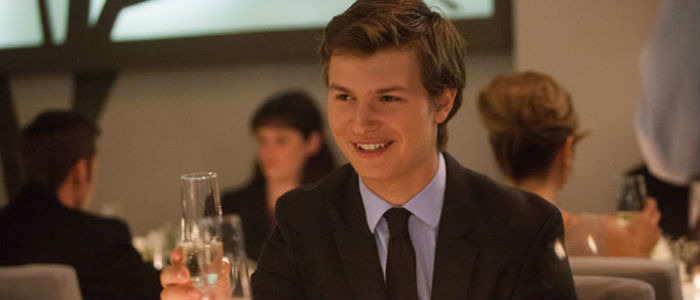 UPDATE 3/31/15: We originally ran this story on January 13. Elgort has now officially be cast. We've made the appropriate changes. Edgar Wright is getting ready to make his next movie and he's in talks with a new leading man. The film is called Baby Driver, and Wright is writing and directing. Now Ansel Elgort, of The Fault in Our Stars and Divergent fame, will officially star. Read more about the Edgar Wright Baby Driver casting below.UPDATE 3/31/15: Here's the Variety link to the official casting. Here's their description of Baby Driver's plot and you can read much, much more about it at this link:
Plot follows a talented, young getaway driver who relies on the beat of his personal soundtrack to be the best in the game. After being coerced into working for a crime boss, he must face the music when a doomed heist threatens his life, love and freedom.
Original story from 1/13/15 follows: Variety broke the news of the likely casting. According to their story, Logan Lerman and John Boyega "chased the part" but I also heard Wright met with a lot of young actors to figure out who would be best for the lead in this new movie. (Remember this dinner with J.J. Abrams, John Boyega and Daisy Ridley?)
Sony is distributing the film through TriStar, with MRC and Working Title co-funding and producing.
So what's this movie about? We still don't know. The Variety story only says "it should have the same feel of Wright's past projects with an original feel and look," which tells us nothing. A previous Deadline story called it "a collision of crime, action, music and sound." Ummm, okay. The title, Baby Driver, tells us even less. Is it really about a guy who drives babies around? I mean...maybe? You never put anything past Wright.
But honestly, does it matter what Baby Driver is about? It's a new Edgar Wright movie. We're in. Plus, this is an idea the director has had for a while. Our first report on it was back in 2009. At that time, the director said this:
I'd like to make Baby Driver next if possible. On [Scott Pilgrim] and other things I've been blogging furiously and putting up a photo every day, I think when I do that one I'd like to go completely silent for once. Probably because it's not an adaptation or anything, or a sequel to anything else. I'd like to just make it in private, basically.
After the very public Ant-Man controversy, that desire to make the movie in quiet seems even more likely to become reality six years after the fact.
What do you think of Ansel Elgort starring in the new Edgar Wright movie?