George Lucas Wanted To Release 'Star Wars Episode VII' Before Selling Lucasfilm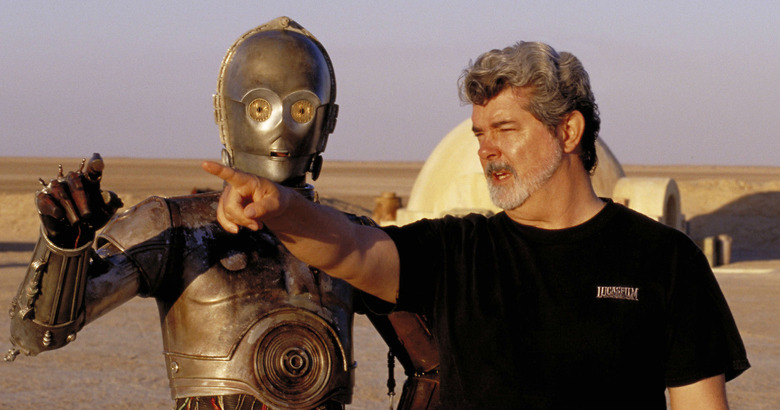 They say kids change everything. In George Lucas' case, his new child changed the fate of Star Wars.
Lucas is promoting his latest film, Strange Magic, and in the first interview about it the creator of A Galaxy Far, Far Away admitted his original plan was to make Star Wars Episode VII for May 2015, then sell the company. But when he and his eventual wife made plans to have a child, he knew making a new trilogy was too much. He sold the company, got married, and had a new child instead. Now, Lucas is excited because he can experience Star Wars in a way we all take for granted. Read the George Lucas Episode 7 quotes below.
The story came from USA Today. In their article, Lucas admitted he was developing the new trilogy, a fact backed up by interviews with Mark Hamill and Carrie Fisher who said Lucas asked them about returning in the summer before Lucasfilm was sold to Disney. However, he realized three films meant probably ten years and decided he wanted to be a father. Disney just so happened to get in touch around that time and that was that:
It's better for me to get out at the beginning of a new thing and I can just remove myself. The time is more important to me than the money.
Lucas sold the company in October 2012, got married in June 2013, and had a baby girl, Everest, in August 2014. Now he has plenty of time to spent with his family. One thing in particular he's looking forward to is watching Star Wars like the fans do, something he'd never been able to do. Lucas said this to USA Today:
The only thing I really regret about Star Wars is the fact I never got to see it — I never got to be blown out of my seat when the ship came over the screen. The next one, I'll be able to enjoy it like anybody else.
And, in case you don't remember, Lucas wouldn't even admit to seeing the trailer for The Force Awakens. So he's really going all in on the theatrical experience.
Do you think things worked out for the best here?