New 'Fifty Shades Of Grey' Trailer Insists Jamie Dornan Is "Ridiculously Hot"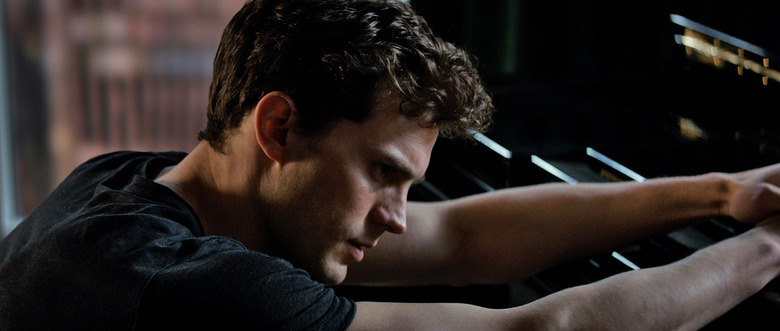 Any time a beloved book gets adapted for the screen, there's bound to be some grumbling over the casting choices. Each of the millions of readers will have a slightly different look in mind, and there's simply no way to satisfy all of them. And Fifty Shades of Grey may have had it even worse than most, because the character of Christian Grey is designed to be every fan's ultimate sexual fantasy.
It wasn't surprising, then, that not everyone loved the choice of Jamie Dornan. But the latest Fifty Shades of Grey trailer tries to make a case for him through the words of one supporting character: "You have to admit, he's ridiculously hot." And Dornan tries his best to live up to that promise. Watch the new Fifty Shades of Grey trailer after the jump. 
Focus dropped the new Fifty Shades of Grey trailer during last night's Golden Globe Awards ceremony.
It wasn't the only bit of Fifty Shades promotion at the event. Dornan and co-star Dakota Johnson also got up on stage together to present the award for Best Supporting TV actress.
Unfortunately, their appearance didn't inspire much confidence as they looked utterly bored to be there with each other. Not every awards presentation has to be bookended by cutesy banter — in fact, given how these shows drag on, they could probably do with fewer scripted exchanges. But when you're trying to sell a movie on the strength of your chemistry, it's probably a good idea to try and pretend you have some, no?
The Fifty Shades of Grey trailer feels similarly tepid, which is exactly the vibe you don't want from a movie that's supposed to be all about irresistibly hot sex. It also seems curiously sanitized. There are Nicholas Sparks trailers with steamier action. But for the sake of the many millions of fans who adore the book, let's hope all of these issues can be chalked up to a poorly crafted trailer and not the movie itself.
Fifty Shades of Grey opens February 13, 2015. Sam Taylor-Johnson directed.
Fifty Shades of Grey is the hotly anticipated film adaptation of the bestselling book that has become a global phenomenon. Since its release, the "Fifty Shades" trilogy has been translated into 51 languages worldwide and sold more than 100 million copies in e-book and print—making it one of the biggest and fastest-selling book series ever.
Stepping into the roles of Christian Grey and Anastasia Steele, who have become iconic to millions of readers, are Jamie Dornan and Dakota Johnson.
Joining Dornan and Johnson in the cast are Luke Grimes as Elliot, Christian's brother; Victor Rasuk as José, Anastasia's close friend; Eloise Mumford as Kate, Anastasia's best friend and roommate; Marcia Gay Harden as Dr. Grace Trevelyan Grey, Christian's mother; Rita Ora as Mia, Christian's sister; Max Martini as Taylor, Christian's bodyguard; Callum Keith Rennie as Ray, Anastasia's stepfather; Jennifer Ehle as Carla, Anastasia's mother; and Dylan Neal as Bob, Carla's husband.
Fifty Shades of Grey is directed by Sam Taylor-Johnson and produced by Michael De Luca and Dana Brunetti alongside E L James, the creator of the series. The screenplay for the film is by Kelly Marcel.