Watch The Full First Episode Of 'Togetherness' From HBO And The Duplass Brothers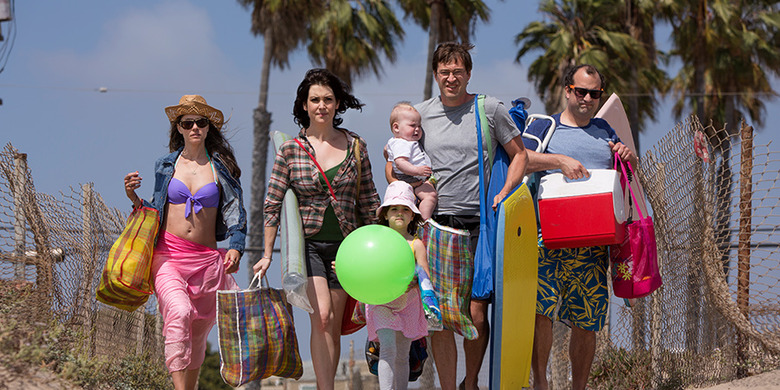 One of the new offerings on HBO is a show called Togetherness, which is written and directed by Jay Duplass and Mark Duplass. The first episode of Togetherness introduce four troubled adults, and watches as they all begin to slide toward 40 and/or oblivion together. Mark Duplass and Melanie Lynskey play a married couple who have been together for a decade; Steve Zissis is his best friend and Amanda Peet is her sister. The four end up living under the same roof, and their proximity to one another makes their individual and collective shortcomings impossible to ignore.
The series premiered last night, but HBO has made the first episode available in full online. Along with that, you can check out a video of the Duplass brothers playing their own rendition of the old HBO theme song.
Before we get to the show itself, check out the Duplass brothers jamming on the classic HBO theme. It's a great little video, especially for those who have this tune etched in their memory:
Here's the first episode of the show. This video may have been restricted to embed at this point; if so, click through to watch on YouTube.
New episodes of Togetherness will air Sundays at 9:30PM on HBO.
Written, directed and executive produced by Jay and Mark Duplass ('Jeff, Who Lives at Home', 'Cyrus'), 'Togetherness' is a comedic look at four middle-aged people reconciling their dreams with their current personal and professional lives in Los Angeles.
Brett (Mark Duplass) and Michelle (Melanie Lynskey) are a married couple in their mid-late 30s struggling to adapt their relationship to the pressures of parenthood. Brett's best friend is Alex (Steve Zissis), an overweight, out-of-work actor debating if he still has a shot at being successful. Alex connects with Michelle's sister, Tina (Amanda Peet), a free spirit grappling with being single and getting older. Each adult fights to sustain his or her own passion without skirting responsibility. As the two couples find themselves living under one roof, 'Togetherness' explores the significance behind every day moments.