'Sisters' TV Spot: Tina Fey And Amy Poehler Throw One Last Bash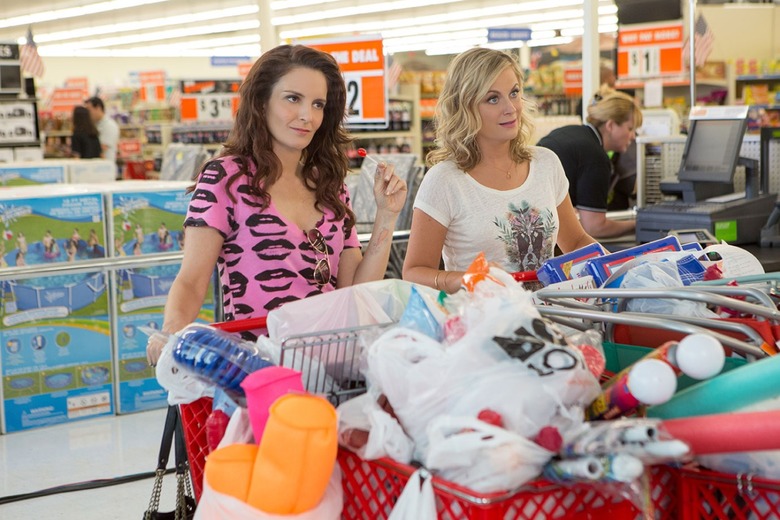 Tina Fey and Amy Poehler have insisted that this year was their last hosting the Golden Globes, but that doesn't mean their days of collaboration are over. Far from it. Last night's Globes ceremony proved the perfect time to debut the first look at Sisters, their new comedy.
Directed by Jason Moore (Pitch Perfect), Sisters centers on two estranged sisters who decide to throw one last party before their parents sell off their childhood home. Watch the first Sisters TV spot after the jump.
Universal unveiled the Sisters TV spot on YouTube.
Formerly titled The Nest, Sisters was scripted by SNL writer Paula Pell (you may also know her as Paula Hornberger from 30 Rock or Tammy Zero from Parks and Recreation). Jay Roach (Meet the Parents) produced.
While Fey and Poehler may seem a bit old to be throwing high school-style ragers, Fey justified the plot in an earlier interview. "People our age need a hardcore house party more than a 17-year-old," she said. "What are they cutting loose from?" Besides, as evidenced in the Sisters TV spot, these aren't exactly Liz Lemon and Leslie Knope types.
Sisters is due to open December 18, 2015 — the same day as a certain feverishly hyped blockbuster sequel. But Poehler claims they're up for the challenge. "We said we'd only do the movie if it opened against Star Wars," she joked. "We're not scared. It's what gets us up in the morning: We are going to f—ing crush Star Wars."
Tina Fey and Amy Poehler reunite for SISTERS, a new film from Pitch Perfect director Jason Moore about two disconnected sisters summoned home to clean out their childhood bedroom before their parents sell the family house. Looking to recapture their glory days, they throw one final high-school-style party for their classmates, which turns into the cathartic rager that a bunch of ground-down adults really need. Fey produces the comedy alongside Jay Roach (Meet the Parents series), and Poehler executive produces from a script by Paula Pell (TV's Saturday Night Live, 30 Rock)