Watch 'Better Call Saul' Extended Trailer; No Walt And Jesse In Season 1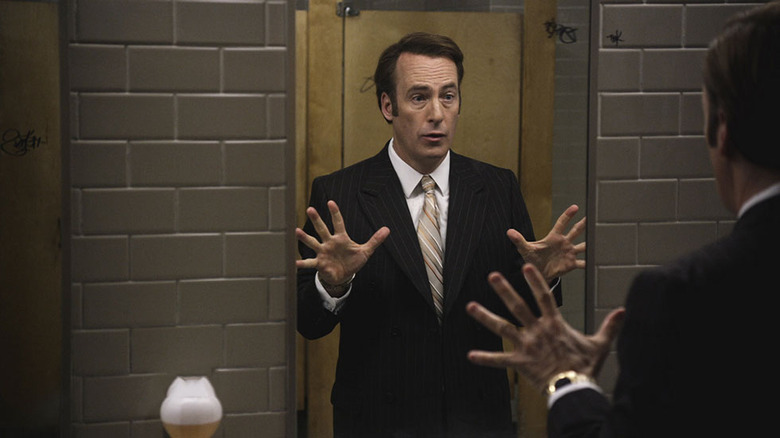 Everyone's favorite sleazy lawyer Saul Goodman will be returning to TV this winter in Better Call Saul, as will everyone's favorite no-nonsense fixer Mike Ehrmentraut. But don't look for Walter White or Jesse Pinkman to join them anytime soon.
Executive producer Peter Gould has confirmed that Breaking Bad's Bryan Cranston and Aaron Paul will not be in Season 1 of the spinoff series. After the jump, find out why — and get a good long look at the characters we will be seeing, in the form of a Better Call Saul extended trailer. 
Gould addressed Better Call Saul's relationship to Breaking Bad in a panel at the Television Critics Association. "We want this show to stand on its own," he said (via Variety). "Bryan Cranston and Aaron Paul will not appear in season one."
Since Better Call Saul takes place years before the events of Breaking Bad, star Bob Odenkirk points out, "Jesse would be in middle school." But the creators tease that Better Call Saul will play with time, so perhaps a flash-forward appearance by a grown-up Jesse Pinkman isn't out of the question for a future season.
Better Call Saul obviously shares a lot of its DNA with Breaking Bad, including much of the same crew. "Vince [Gilligan] and Peter are the brains behind it, and they're the brains behind Breaking Bad," said Odenkirk. "Tonally and their expertise are all carried over."
However, the Better Call Saul producers took care to differentiate the two shows. In some ways, having the same team proved an advantage on that front.
We had this great advantage of the same pilot director of Breaking Bad (in Gilligan). We were able to sit down and talk about what's the same, what's different. Breaking Bad had a handheld camera, so there was always a bit of motion. This camera tends to be more static and locked down. You feel like Jimmy is struggling against the corners of the frame.
Instead of trying to mimic Breaking Bad's style, Gilligan took inspiration from the likes of Bernardo Bertolucci and William Friedkin. "You always steal from the best," he said. "Man, we had fun trying to reinvent the wheel."
Watch the Better Call Saul extended trailer below.
[AMC]
Better Call Saul will kick off with a two-night premiere on Sunday, February 8 at 10 PM (right after The Walking Dead) and Monday, February 9 at 10 PM. It'll air on Monday nights for the rest of the season.
Better Call Saul is the prequel to the award-winning series Breaking Bad, set six years before Saul Goodman (Bob Odenkirk) became Walter White's lawyer. When we meet him, the man who will become Saul Goodman is known as Jimmy McGill, a small-time lawyer searching for his destiny, and, more immediately, hustling to make ends meet. Working alongside, and often against, Jimmy is "fixer" Mike Erhmantraut (Jonathan Banks), a beloved character introduced in Breaking Bad. The series will track Jimmy's transformation into Saul Goodman, the man who puts "criminal" in "criminal lawyer."