Bradley Cooper Eyes 'Honeymoon With Harry' As Directorial Debut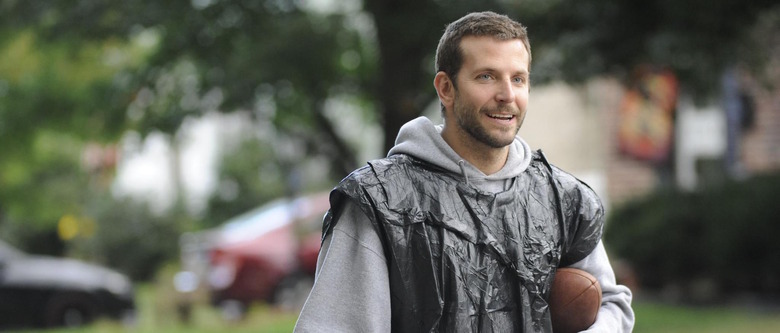 Bradley Cooper is adding a new title to his resume: director. The Oscar-nominated actor is eyeing as his feature filmmaking debut Honeymoon With Harry, a dramedy in which he'll also star with Robert De Niro. More about Cooper's possible directing gig after the jump.
Deadline reports Dan Fogelman (Crazy, Stupid, Love.) is rewriting Honeymoon With Harry, which centers on a hard-partying womanizer who cleaned up his act after meeting the right woman. Her dad isn't so keen on him, as he recognizes a bit of himself in his daughter's suitor, but the couple gets engaged anyway.
Then, shortly before her wedding, she passes away, leaving the groom in a tailspin. He goes on the honeymoon trip to try and down his sorrows. Once at the beach, he encounters the late bride's father, who's come to spread her ashes.
Cooper would play the woman's bereaved fiance and De Niro her father. The pair have worked together several times before — most notably playing father and son in Silver Linings Playbook, but also in Limitless, American Hustle, and David O. Russell's upcoming Joy.
Honeymoon With Harry has been in development for nearly a decade. Paul Haggis wrote the original script based on Bart Baker's unpublished novel. At the time, he intended to helm the movie himself with Vince Vaughn and Jack Nicholson in the leads. Haggis' screenplay made the 2005 Black List but the project fell apart.
After Haggis, director Jonathan Demme and screenwriter Jenny Lumet circled the project and Cooper and De Niro first became interested. That version didn't work out either, but Fogelman's hiring indicates this new iteration is finally picking up steam.
Cooper has lately seemed eager to branch out. He produced American Sniper and has reportedly been considering a few different projects for his directorial debut. As an actor, his upcoming roles include the aforementioned Joy, Cameron Crowe's next movie, and Netflix's Wet Hot American Summer revival.