Netflix's 'Wet Hot American Summer' Series Has Started Shooting; Find Out Who's Back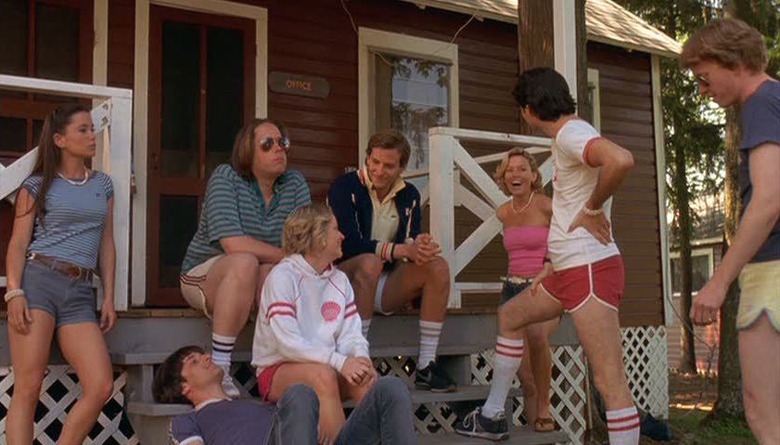 At one point in 2001's Wet Hot American Summer, the counselors of Camp Firewood make an earnest promise to reunite at in exactly one decade. Well, it looks like they've missed the mark by a few years, but better late than never, right?
Netflix is officially moving forward with the Wet Hot American Summer TV series first teased last year. Shooting is already underway with much of the original cast, including a few names who are much bigger now than they were then. More on the Wet Hot American Summer Netflix show after the jump. 
Although the streaming service has yet to confirm the series order, Deadline reports filming has started this week. The limited series will consist of 8 episodes. David Wain and Michael Showalter, who wrote the original film, created the TV series follow-up, and Wain will once again direct. It's unclear when the show will debut on Netflix.
Impressively, nearly the entire core cast is coming back — including Showalter, Paul Rudd, Elizabeth Banks, Bradley Cooper, Amy Poehler, H. Jon Benjamin, Michael Ian Black, Judah Friedlander, Janeane Garofalo, Nina Hellman, Ken Marino, Zak Orth, David Hyde Pierce, Joe LoTruglio, Christopher Meloni, A.D. Miles, Marguerite Moreau, Marisa Ryan, Molly Shannon, and Kevin Sussman.
That lineup sounds much more impressive today than it did in 2001, before Cooper, Rudd, Banks, and Poehler were household names. The movie itself also enjoys much more popularity nowadays than it did back then. It was a poorly reviewed box office dud, but has since gone on to achieve cult status.
The Wet Hot American Summer TV series is expected to be a prequel. Which might be a ridiculous idea for most properties, seeing as the characters will be in their teens while the actors are in their 40s. But this is Wet Hot American Summer; the ridiculous casting is part of the joke.
Wain had been talking about a potential Wet Hot American Summer follow-up for so long, it had started to feel more like a pipe dream than an actual attainable goal. But Netflix came to the rescue, just as it did with another formerly deceased cult property, Arrested Development.
In fact, Wet Hot American Summer will be taking a page out of the Arrested Development playbook by using only a few characters per scene, making it easier to wrangle the busy cast. Arrested Development's results got a mixed reception from fans, but here's hoping Wet Hot American Summer will fare better.
While we wait, here's a delightful scene of future Ant-Man Paul Rudd from the 2001 film: