'Lego Batman Movie' Will Answer The Question "Can Batman Be Happy?"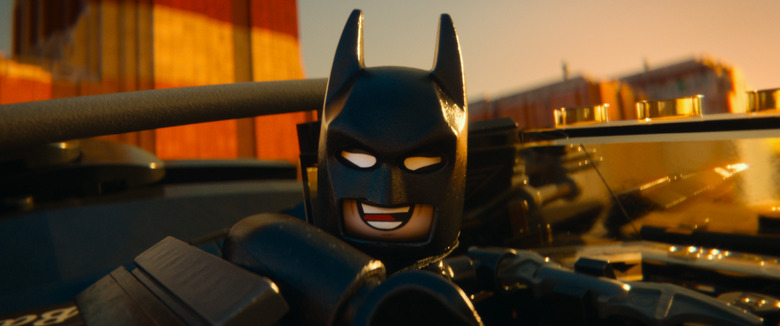 Batman may be the most miserable major superhero out there, especially in his current, Christopher Nolan-influenced incarnation. This is, of course, despite the fact that he has all the fame, fortune, good looks, and intelligence that an ordinary person could possibly want. So if all those things can't make him happy, can anything?
It's a big question, and one that Chris Miller and Phil Lord hope to answer in The Lego Batman Movie. "Batman is the ultimate in white people problems," laughed Lord. More about the Lego Batman Movie after the jump. 
MTV caught up with Lego Batman writer/producers Lord and Miller, as well as Lego Batman himself Will Arnett, at the National Board of Review Awards red carpet. While the Lego Batman is still a few years from release, Arnett happily talked up the footage he'd seen so far. "The first little bit that I've seen was mind-boggling," he gushed.
But that's not the only reason to get pumped for the film. Lord explained the "amazing premise" of the movie:
"I think the movie is really exciting because it's about, 'Can Batman be happy?' ... Batman is the ultimate in white people problems. He's like, 'oh, I'm so rich and handsome, women like me and I've got a Maclaren! Something about my parents!
The Lego Movie version of Batman indulged his emo side by writing songs like "Untitled Self Portrait" ("Darkness... no parents!") and working exclusively in "black and sometimes very, very dark gray." Still, he found genuine pleasure in things like gigantic speaker systems and Bat-puns ("I'm gonna wing it"), which made him a bit less angsty than some of his predecessors.
As I wrote in December, the genius of Lego Batman was the way he skewered the Caped Crusader's dark and gritty self-image without quite contradicting it. So while The Lego Batman Movie might not count as canon within the Batman v Superman: Dawn of Justice universe, it could still shed light on the iconic character's twisted psychology.
Oh, and speaking of those other versions of Batman: Miller revealed in November that "every era of Batman filmmaking will be acknowledged" in the film, which got some fans wondering if previous Batmen like Adam West, Michael Keaton, and Christian Bale could appear.
In his red carpet convo, Arnett fanned the flames of speculation by teasing, "There are a lot of people involved." But for now, Miller and Lord would say only, "No spoilers."
Chris McKay is directing The Lego Batman Movie, which lands in theaters in 2017.