Melissa McCarthy Eyed As 'Ghostbusters' Lead, But Scheduling Issues Remain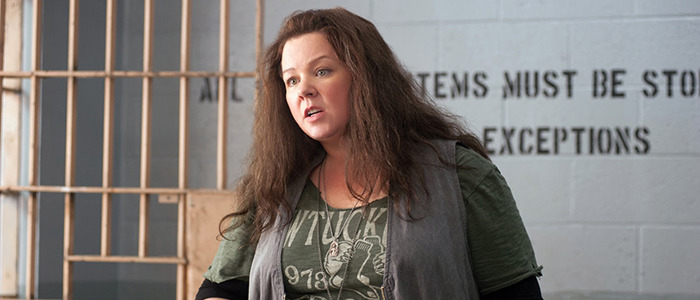 It will come as a surprise to no one that Paul Feig is considering Melissa McCarthy as the likely lead for his all-female Ghostbusters team. Though McCarthy has been working for years, with a role on over 150 episodes of Gilmore Girls acting as her first major calling card, it was the Feig-directed Bridesmaids that really made her a major player. The pair have since done two more films: The Heat, and the soon to be released Spy. So McCarthy is at the top of Feig's list — but scheduling and creative questions still have to be worked out before we'll see Melissa McCarthy as a Ghostbuster.
THR has some new details, saying that Sony wants a June shoot for the film, but that McCarthy's schedule for Mike & Molly, and the upcoming Universal film Michelle Darnell, to be directed by her husband Ben Falcone, come first. That doesn't meant this won't happen, as Michelle Darnell could shoot in March, leaving McCarthy free for the June Ghostbusters shoot.
There's also the mention of "creative conversations" that have to take place, and we don't know what the details are there.
The trade also knocks a few names off recent lists we've heard about for the film, saying that Jennifer Lawrence and Rebel Wilson are not contenders, and that while Emma Stone is a contender, McCarthy is the key player. The report also lists Jillian Bell (Workaholics), and Cecily Strong (SNL) as people set to meet with Feig.
All we know about this film is that it will be a new story about a group of women who form a Ghostbusting team. The original cast (Bill Murray, Dan Aykroyd and Ernie Hudson) may cameo, but this isn't a situation where that original team will be teaching the new crew. Feig has said "I want ours to be scarier than the original," but even recent comments from him about the film say that the script isn't finished, so there's not much to reveal yet. (And that early script state could factor in to the creative conversations that will take place with the cast.)