'Pete's Dragon' Adds Michael C. Hall And Wes Bentley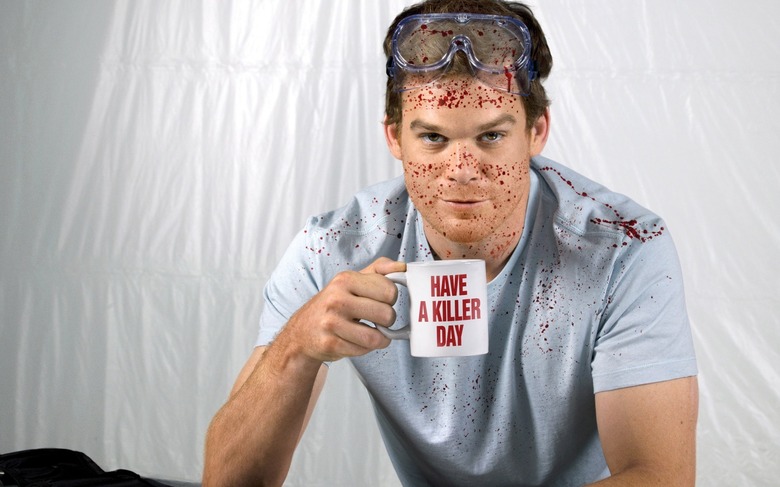 Could Elliott be in for a gory death in David Lowery's Pete's Dragon remake? I mean, probably not, but with its latest addition you never know.
Dexter actor Michael C. Hall has just boarded the family adventure, joining Robert Redford, Bryce Dallas Howard, Wes Bentley, Oona Laurence, and Oakes Fegley. More on the Petes Dragon Michael C Hall casting after the jump.
Variety reported the news. Fegley has the lead as Pete, a young boy whose parents have perished in a car crash. He's subsequently raised by friendly dragon Elliott, and they reside in a forest threatened by loggers.
As previously reported, Laurence plays Natalie, Pete's friend and the daughter of a mill owner. She's a new character created just for this incarnation of the story. Redford plays a local who tells tales of dragons that no one believes.
No details have been given on Hall's role, or Bentley's or Howard's for that matter. But last we heard, the story also involved a forest ranger who finds Pete and the greedy brother of the mill owner, so the actors may be a match for those roles.
Lowery scripted Pete's Dragon with Toby Halbrooks. While the 1977 original was a musical, the new version won't be. It'll be a mostly live-action adventure, with CG used to bring the dragon to life.
The project seems like quite a change of pace for Lowery, an editor and director known for indie dramas like Upstream Color and Ain't Them Bodies Saints. But that could prove an advantage if he's able to bring some offbeat flavor to Pete's Dragon.
Hall wrapped his long-running role on Showtime's Dexter in 2013 and has since been seen in Kill Your Darlings and Cold in July. He's currently finishing up his run on the Broadway production of Hedwig and the Angry Inch, and has the Stanley Kubrick-based miniseries God Fearing Man coming up.