DJ Caruso In Talks To Direct 'G.I. Joe 3'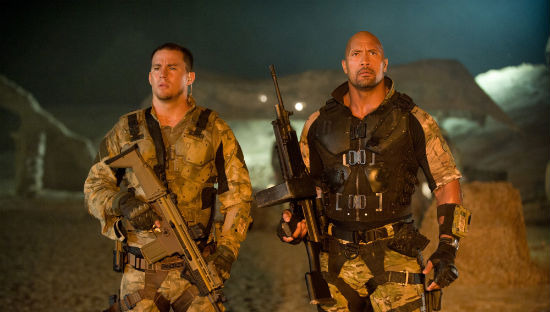 The third G.I. Joe movie is moving forward, and Paramount and producer Lorenzo Di Bonaventura are in the process of hiring yet another new director for the movie. This time DJ Caruso (Disturbia, Eagle Eye) is in talks to be the GI Joe 3 director, and if things go well he'll direct a returning Dwayne Johnson and possibly a new crew of recruits.
THR reports that Caruso is likely to take over the franchise. Jon M Chu, who made the second film, was originally in talks to direct the third, but bounced over to Jem and the Holograms instead. Martin Campbell was once in talks, but moved on.
Last we know the script was by Jonathan Lemkin, but there could well be a new writer on board once Caruso's deal is done. (Lemkin is the second writer to take on the script; first was Evan Daugherty (Snow White and the Huntsman, Divergent).
There is little confirmation about returning cast. (Though Channing Tatum, pictured above with The Rock, could still return, based on comments made by Chu early last year, despite the events of the second movie.) There's even less known about what the story might be. Previous comments suggest that characters such as Scarlett, Baroness, and Snake Eyes, but with the changing creative team we don't know what previous ideas remain in play.