'American Sniper' Headed For IMAX Release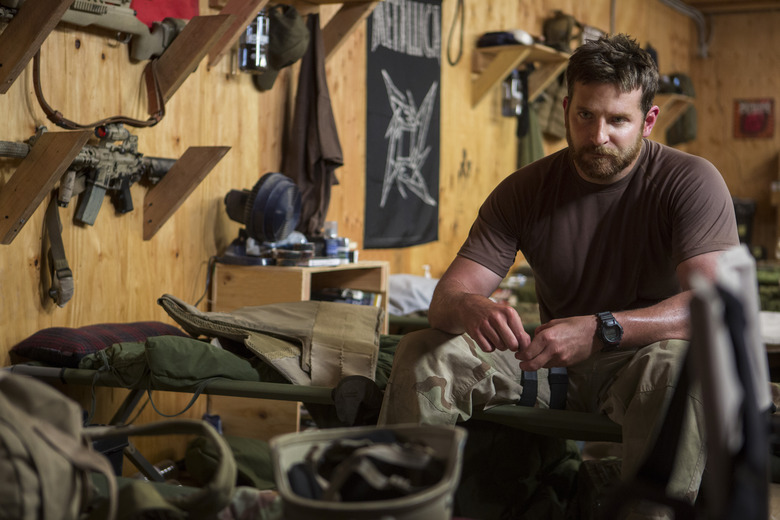 Clint Eastwood's American Sniper has been racking up box office dollars and picking up awards nominations, and now it's getting the IMAX treatment. The company has announced an American Sniper IMAX run to kick off later this month.Bradley Cooper leads the drama as U.S. Navy SEAL Chris Kyle, called the most lethal sniper in American military history. Hit the jump for more details on the American Sniper IMAX release. 
IMAX revealed the news today. American Sniper was not shot in IMAX but will be digitally re-mastered into the IMAX format. The American Sniper IMAX run begins January 16 — the same day the film goes wide on regular, non-IMAX screens.
American Sniper isn't your typical IMAX movie, but the timing works to its advantage. January tends to be a slow time for blockbusters. (That fact also accounts for the Game of Thrones IMAX presentation coming the following Friday, January 23.) Moreover, American Sniper is currently picking up steam in the awards race, with a PGA nomination and two BAFTA nominations under its belt. Now is a great time to capitalize on its buzz.
Reviews for American Sniper have been good-but-not-great, but its box office performance has been unambiguously strong. American Sniper has done remarkably well since its Oscar-qualifying limited debut on December 25. To date, it has grossed $9 million — $7 million of that outside the U.S.
From director Clint Eastwood comes American Sniper, starring Bradley Cooper as Chris Kyle, the most lethal sniper in U.S. military history. But there was much more to him than his skill as a sharpshooter.
U.S. Navy SEAL Chris Kyle is sent to Iraq with only one mission: to protect his brothers-in-arms. His pinpoint accuracy saves countless lives on the battlefield and, as stories of his courageous exploits spread, he earns the nickname "Legend." However, his reputation is also growing behind enemy lines, putting a price on his head and making him a prime target of insurgents. He is also facing a different kind of battle on the home front: striving to be a good husband and father from halfway around the world. Despite the danger, as well as the toll on his family at home, Chris serves through four harrowing tours of duty in Iraq, personifying the spirit of the SEAL creed to "leave no one behind." But upon returning to his wife, Taya Renae Kyle (Sienna Miller), and kids, Chris finds that it is the war he can't leave behind.