'Ant-Man' Trailer: Paul Rudd Is Marvel's Latest, Smallest Movie Superhero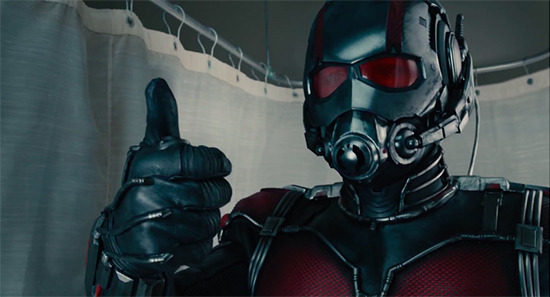 Phase Two of the Marvel Cinematic Universe concludes on July 17 as the world's tiniest superhero finally hits the big screen. Ant-Man, directed by Peyton Reed, is finally coming after years of development, and the first trailer for the film is here.
Paul Rudd plays Scott Lang, a thief who teams up with genius Hank Pym (Michael Douglas) to attempt to hide Pym's incredible technology which can shrink him to the size of an ant. The film co-stars Evangeline Lilly, Corey Stoll, Bobby Cannavale, Michael Peña and Judy Greer.
The Ant-Man trailer premiered during the pilot episode of Marvel's Agent Carter but you can watch right now, right here. 
First Ant-Man Trailer
[via Marvel]
So – what did you think of the trailer? I have to say, it's pretty surprising. The way it starts off very slow, very un-superhero movie suggests once again that Marvel has done something right. They're putting character ahead of spectacle. And the way it ends, with that Paul Rudd humor, is definitely the tone we were hoping for. (And Rudd and Adam McKay are now credited with the script.)
As for that spectacle, well, that part is a bit less interesting. At least now, seven months out from release. You don't get a great sense of the action, or the shrinking concept. And the stuff with Scott on the back of the ant feels almost like a different movie. Nevertheless, I feel like Marvel has earned enough good will through walking trees, talking raccoons and numerous other sequels that this will all work well once it comes together. This trailer should quiet skeptics who wrote this movie off after Edgar Wright left.
And don't forget, this is only our first look. There will be much more in the coming months.
Here's the official info on Ant-Man:
The next evolution of the Marvel Cinematic Universe brings a founding member of The Avengers to the big screen for the first time with Marvel Studios' "Ant-Man." Armed with the astonishing ability to shrink in scale but increase in strength, master thief Scott Lang must embrace his inner-hero and help his mentor, Dr. Hank Pym, protect the secret behind his spectacular Ant-Man suit from a new generation of towering threats. Against seemingly insurmountable obstacles, Pym and Lang must plan and pull off a heist that will save the world.
Marvel's "Ant-Man" stars Paul Rudd as Scott Lang aka Ant-Man, Evangeline Lilly as Hope Van Dyne, Corey Stoll as Darren Cross aka Yellowjacket, Bobby Cannavale as Paxton, Michael Peña as Luis, Judy Greer as Maggie, Tip "Ti" Harris as Dave, David Dastmalchian as Kurt, Wood Harris as Gale, Jordi Mollà as Castillo and Michael Douglas as Hank Pym.
Peyton Reed directs Marvel's "Ant-Man" with Kevin Feige producing and Louis D'Esposito, Alan Fine, Victoria Alonso, Michael Grillo, Edgar Wright and Stan Lee serving as executive producers. Marvel's "AntMan" delivers a high-stakes, tension-filled adventure on July 17, 2015.