Elle Fanning In Talks For Nicolas Winding Refn's 'The Neon Demon'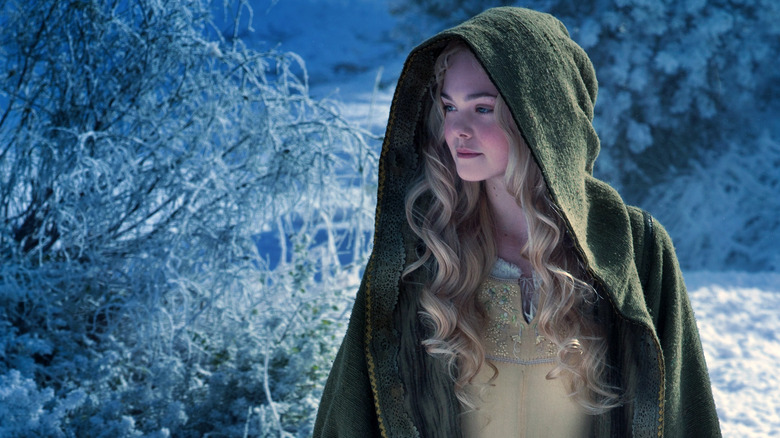 Nicolas Winding Refn's female-led horror film got a new title in November, and as of today it also has a new star. Elle Fanning has just signed on for lead The Neon Demon, which is on track to shoot this spring. More about the Neon Demon Elle Fanning casting news after the jump. TheWrap reports Fanning will lead The Neon Demon as "an aspiring model who is caught in a world of beauty and demise." Said Refn, "Elle Fanning is a super cool wonder woman and I look forward to going on a terrifying trip with her into The Neon Demon."
Refn and Mary Laws scripted The Neon Demon. Plot details are pretty scarce at the moment but Refn has previously explained the picture as follows:
One morning I woke and realized I was both surrounded and dominated by women. Strangely, a sudden urge was planted in me to make a horror film about vicious beauty. After making Drive and falling madly in love with the electricity of Los Angeles, I knew I had to return to tell the story of The Neon Demon. This movie is a manifestation of the strong ties between us and will lead to many more adventures.
The Neon Demon seems to be a new iteration of Refn's I Walk With the Dead. Carey Mulligan attached to lead that one as of a few years ago, but it doesn't look like she's involved with The Neon Demon.
At 16, Fanning already has a stronger resume than many actors twice her age. She mixes blockbusters (Maleficent) and indies (Low Down), and has worked with several big-name directors including Cameron Crowe (We Bought a Zoo), Sofia Coppola (Somewhere), and David Fincher (The Curious Case of Benjamin Button).
She recently wrapped Jay Roach's Trumbo and the indie dramedy Three Generations. In addition, she is attached to star in Ben Affleck's Live By Night, the Mary Shelley biopic A Storm in the Stars, and the Neil Gaiman adaptation How to Talk to Girls at Parties. But it looks like The Neon Demon will move before those, as production is scheduled to begin in Los Angeles this March.