Watch 'The Lego Movie' Get Built Brick By Brick A Great Making Of Video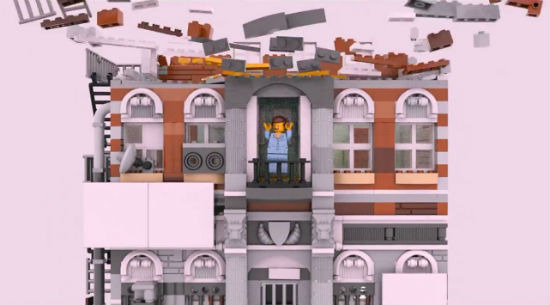 Oscar-nominations are just a few days away and one of the few you can all but lock up is that The Lego Movie will be nominated for Best Animated Feature. Once it's nominated, the studio has to make a push for the win and they do that by releasing awesome videos like this.
They've just released a new featurette online that shows the absolutely stunning detail that went into creating the film. Directors Chris Miller and Phil Lord talk about the extensive research, influences and so much more that went into making the movie look like it was actually made of Legos. Watch The Lego Movie Making of video below.
Thanks to Warner Bros. for this awesome Lego Movie making of video.
The Lego Movie Making Of Video
You kind of knew and had heard the amount of thought and work that was put into creating every frame of The Lego Movie but seeing it there is just mindblowing. I also semi-geeked out at 3:40 when you see Lord and Miller casually pull some Lego modular sets out to mess around with. Like – how cool is that?
Anyway, here's hoping The Lego Movie keeps the current momentum and wins the Oscar for Best Animated Feature. There were some other good animated films this year but this was definitely the best. It's on DVD and is currently airing on HBO too.
Directed by Phil Lord & Christopher Miller, The LEGO ® Movie is an original animated film that follows the adventures of Emmet (voice of Chris Pratt), a rules-abiding, perfectly ordinary citizen who is mistakenly identified as "The Special," the most extraordinary person and the key to saving the world. Drafted into a fellowship of strangers, Emmet embarks on an epic quest to stop the evil tyrant, Lord Business (voice of Will Ferrell), a journey of self-discovery that will require him to summon all of his previously untapped creativity and imagination. The voice cast also includes Elizabeth Banks, Will Arnett, Nick Offerman, Alison Brie and Charlie Day, with Liam Neeson and Morgan Freeman. The screenplay is by Phil Lord & Christopher Miller, from a story by Dan Hageman & Kevin Hageman and Phil Lord & Christopher Miller, based on LEGO construction toys. The film is produced by Dan Lin and Roy Lee.