Could Batman Appear On The CW's 'Arrow'?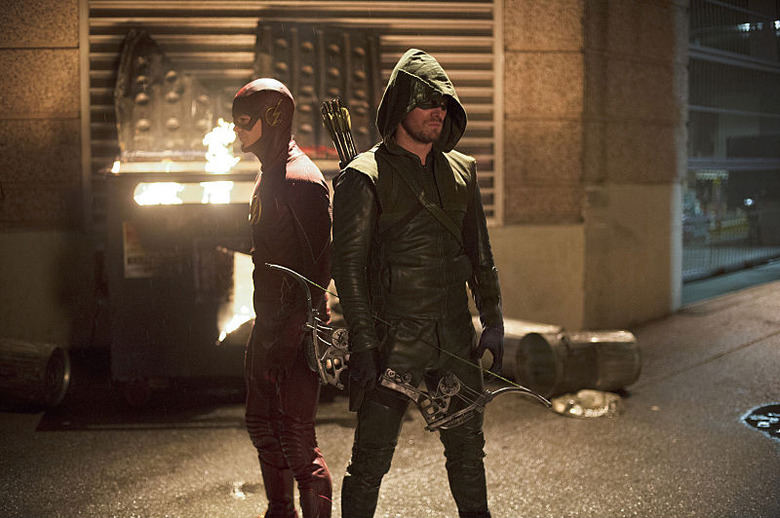 All manner of superheroic characters have stopped by The CW's Arrow over the past three seasons — including, most recently, the Flash, in order to launch fellow CW TV show The Flash. Now Marc Guggenheim has his eye on an even bigger name.
The executive producer teased the possibility of a Batman appearance on Arrow, though he admits it won't "be happening anytime soon." Meanwhile, he also believes a Supergirl crossover could be in the cards. Hit the jump for Guggenheim's Arrow Batman crossover comments. 
The possibility of a Batman appearance on Arrow came up during Guggenheim's interview with the showrunners of ABC's Agent Carter (a group that includes his own wife, Tara Butters) for THR. Here's Guggenheim's response:
At the end of the day it'd be so awesome to have Batman on the show. That'd be really cool. I don't think that will be happening anytime soon, but you never know ... one day. One thing we're always saying ... we never expected to have had the Huntress [Jessica De Gouw], Deathstroke [Manu Bennett] or Deadshot [Michael Rowe]; we ended up with a lot more DC Comics characters becoming part of the show than we had ever planned. It wasn't initially part of the pitch or the conception of the show. Now here we are in our third season and we've Flash [Grant Gustin] and the Suicide Squad and we're going to have Katana and we have Ray Palmer [Brandon Routh], and it seems like you could field an entire show off the characters that we have introduced on Arrow. That's so beyond anything we expected. That's a long-winded way of saying I've learned not to expect anything or make any predictions because the reality has far exceeded any of our initial predictions or initial conceptions.
Guggenheim had less to say about a potential Supergirl crossover, acknowledging only that it was "possible." Unlike Arrow and The Flash, the developing Supergirl series isn't based at The CW — but it is at CBS, which is owned by the same corporation. Synergy!
Guggenheim's comments on Batman seem to contradict earlier comments by Arrow producer Andrew Kreisberg. "There are things we can do, and there are things we can't," he said last year. "[T]here are cities we can use, and then there's everything else. You won't be hearing Gotham or Metropolis on the show anytime soon."
It seemed to make sense to keep Batman out of Arrow since DC and Warner Bros. TV already have a Batman TV series of sorts, Fox's Gotham. The character will also play a significant role in the future of the DC movie slate, starting with next year's Batman v Superman: Dawn of Justice. He even has his own Lego Movie spinoff in the works for 2017. None of these three versions share a timeline / universe.
But adding Batman to Arrow has some logic to it, too. Batman is still much better known than Arrow is, and bringing him on could be a cheesy but effective bit of celebrity stunt-casting. Plus, Oliver Queen would probably love the opportunity to commiserate with another billionaire vigilante.
If Kreisberg's earlier statements were accurate, it could be that certain aspects of the Bat-universe are fair game for Arrow while others are off-limits. Maybe Arrow will be allowed to reference Bruce Wayne, for example, as long as they don't bring Gotham into it. Or perhaps DC is changing its mind about a few things as its TV properties continue to expand.
Of course, Guggenheim might also just be playing around. It's very interesting that he's leaving the door open for now. Especially since if anyone would know whether Batman could show up on Arrow, it'd be him. But "you never know" and "one day" are a very, very long way off from a confirmation that Batman will swing by Starling City.