'Accidental Love' Trailer: Delayed And Disowned David O. Russell Film Has A New Name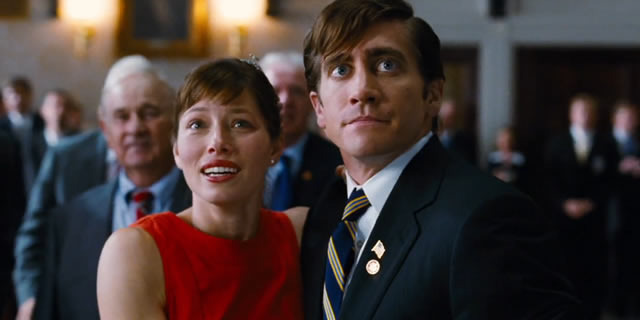 We're about to see the final chapter in a disaster story.
Back in 2008 David O. Russell shot a film called Nailed, scripted by Al Gore's daughter Kristen Gore. It was a political satire in which Jessica Biel played a waitress who is shot in the head with a nail gun, leading to crazy sexual urges and a trip to Washington to lobby for health care and breaks for people with unusual disabilities. The film had shaky financing and was shut down several times. A key scene was never shot, and the movie sat, unfinished, ever since.
Fast-forward to now. David O. Russell has long since withdrawn from the project, which is now credited to director Stephen Greene (who?) and has been re-edited by producers, shown at test screenings to rather poor results, and ultimately retitled twice. Nailed became Politics in Love (barf) and is now called Accidental Love (double-barf). A release is evidently in the cards for February, and you can see the Nailed trailer — er, the Accidental Love trailer — after the break.
You can certainly see the ghost of Russell's original film in there — there's the outline of a satire, maybe something a bit more broad and goofy than the strangeness of I Heart Huckabees, which at the time this was shot was Russell's most recent movie. Could this have been good? Impossible to tell from this trailer. Jessica Biel certainly seems to be giving it her all. (Biel was one of the players contractually obligated to return for reshoots when producers planned to finish the movie back in 2010, as the big missing scene was the one in which her character is injured.)
Beyond that, who knows. Great timing on the part of the producers here to capitalize on the Nightcrawler buzz Jake Gyllenhaal is enjoying right now, and since Tracy Morgan's own injury prevents him from doing any work for the foreseeable future, it's no surprise to see him being prominently used in marketing.
It's also interesting to consider this project as something of a turning point for Russell. Before this he was known for his volatility as much as his work. But after Nailed died the first time Russell went on to make The Fighter, Silver Linings Playbook and American Hustle — films that scored financially, critically, and in awards competitions. Nailed could be visualized as the pivot point in a period that saw Russell transitioning from feisty independent to established big-time filmmaker. I'll be curious to see if that is evident in the film at all.
Trailer via The Film Stage. Accidental Love will be on VOD on February 10, and in theaters on February 20.
Formerly known as Nailed (David O. Russell), Accidental Love tells the story of a small town waitress (Biel), who accidentally gets a nail lodged in her head as her boyfriend (Marsden) attempts his marriage proposal. Her predicament leads her on a journey to Washington DC, where she meets a dashing but clueless congressman (Gyllenhaal), who might be able to help her unusual case. Will their blossoming romance survive the cut-throat politics of the Capital? With an all-star cast that also includes Catherine Keener, Tracy Morgan, James Brolin and Paul Reubens, Accidental Love is the funny story of what happens when sparks fly and love interferes with what you stand for.