'Star Wars: The Force Awakens' Will Feature Three Actors From 'The Raid'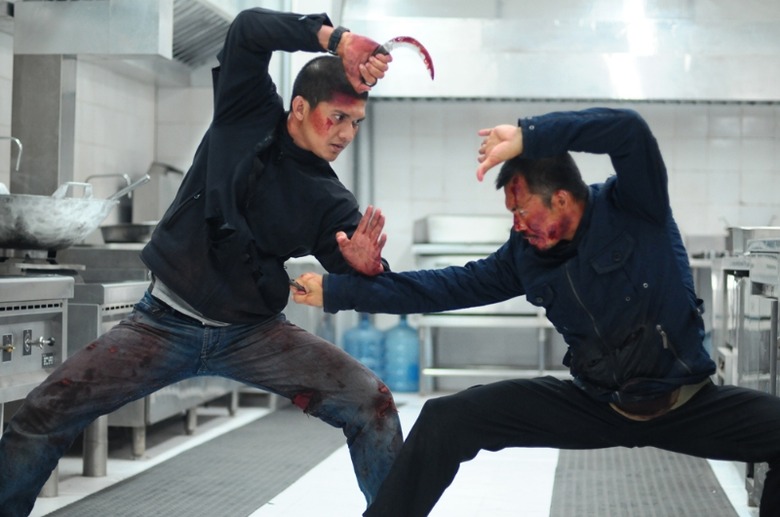 This is an unexpected yet awesome piece of Star Wars news to kick off the year of The Force Awakens. Twitch is reporting that three of the main actors from Gareth Evans' The Raid and The Raid 2 have roles in J.J. Abrams' Star Wars: The Force Awakens. The actors in question are the lead actor Iko Uwais, Yayan Ruhian (who played Mad Dog and Prakoso in the films) and Cecep Arif Rahman, who played "The Assassin" and fought in the kitchen finale of the sequel (seen above right, with Uwais).
Nothing beyond that is known but /Film sources have hinted to us one of the film's action sequences might have been choreographed by the team. Read more about The Raid Star Wars news below.
Twitchfilm posted the report. And if there's any site that would know about The Raid stars, it's Twitch. Their editor Todd Brown is a producer on both films so this is about as rock-solid as you can get. The only way it would be any more factual is if Lucasfilm posted about it, but that hasn't happened yet.
So what will Uwais, Ruhian and Rahman be doing in the movie? On screen, each has proved they can work not only with martial arts but all matter of weapons so you have to think they'll be in a big action scene. But they're important behind the scenes too. Uwais and Ruhian choreographed the films, so it's very possible they were hired both to act and work out a scene. That, of course, remains unconfirmed but is what our sources told us. One of the action scenes will be choreographed by the guys behind The Raid.
No matter what their specific roles are this is just another instance of Abrams really going practical with The Force Awakens. There are few better practical action movies in the past decade than the two Raid movies, so bringing them aboard feels smart. (My guess for their roles: Working with Gwendoline Christie's character in some way.)
Pretty awesome news, would you agree? What do you think of the The Raid Star Wars news?