New 'Mad Max: Fury Road' Images Are Full Of Grime And Action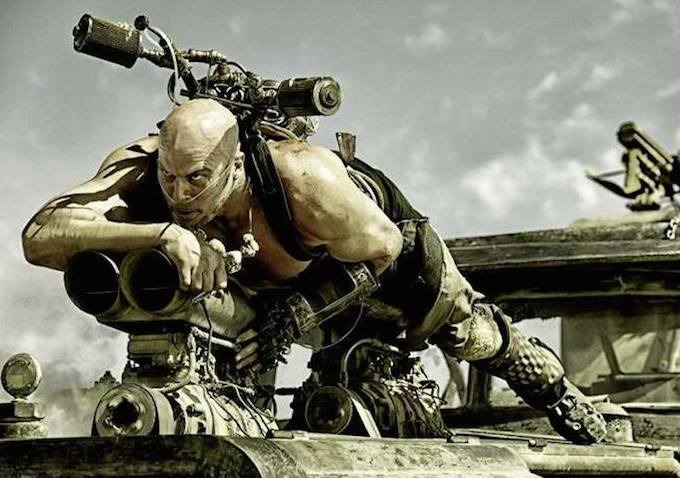 Mad Max: Fury Road looks absolutely crazy, and a new batch of images only fuels our curiosity about the movie. The film landed in the number-one spot of my most-anticipated list for 2015, in part because we don't often see films like this from any source, much less from a major studio. This looks like an old Heavy Metal comic come to life, and early test screening reports describe a movie that is almost all action, with very limited dialogue. Given how great the action looks in this case, we'll all for it. Check out a handful of new Mad Max Fury Road images below.
Here's a gallery of images, via The Playlist. The general feeling here is the same you'll get from either of the film's two trailers, but there are a few newly-visible details. You may not have seen that design etched into the chest of the character played by Nicholas Hoult, for example, or Charlize Theron's character without her mechanical arm.
Mad Max: Fury Road opens on May 15.
From director George Miller, originator of the post-apocalyptic genre and mastermind behind the legendary "Mad Max" franchise, comes "Mad Max: Fury Road," a return to the world of the Road Warrior, Max Rockatansky. Haunted by his turbulent past, Mad Max believes the best way to survive is to wander alone. Nevertheless, he becomes swept up with a group fleeing across the Wasteland in a War Rig driven by an elite Imperator, Furiosa. They are escaping a Citadel tyrannized by the Immortan Joe, from whom something irreplaceable has been taken. Enraged, the Warlord marshals all his gangs and pursues the rebels ruthlessly in the high-octane Road War that follows.
Tom Hardy ("The Dark Knight Rises") stars in the title role in "Mad Max: Fury Road"—the fourth in the franchise's history. Oscar winner Charlize Theron ("Monster," "Prometheus") stars as the Imperator, Furiosa. The film also stars Nicholas Hoult ("X-Men: Days of Future Past") as Nux; Hugh Keays-Byrne ("Mad Max," "Sleeping Beauty") as Immortan Joe; and Nathan Jones ("Conan the Barbarian") as Rictus Erectus. Collectively known as The Wives, Zoë Kravitz ("Divergent") plays Toast, Riley Keough ("Magic Mike") is Capable, Rosie Huntington-Whiteley ("Transformers: Dark of the Moon") is Splendid, and supermodel Abbey Lee is The Dag, and Courtney Eaton is Fragile. Also featured in the movie are Josh Helman as Slit, Jennifer Hagan as Miss Giddy, and singer/songwriter/performer iOTA as Coma-Doof Warrior. The cast is rounded out by well-known Australian actors John Howard and Richard Carter, supermodel Megan Gale, Angus Sampson, Joy Smithers, Gillian Jones, Melissa Jaffer and Melita Jurisic.