Cool Stuff: The Most Popular Films Of All Time Are Charted At Gallery 1988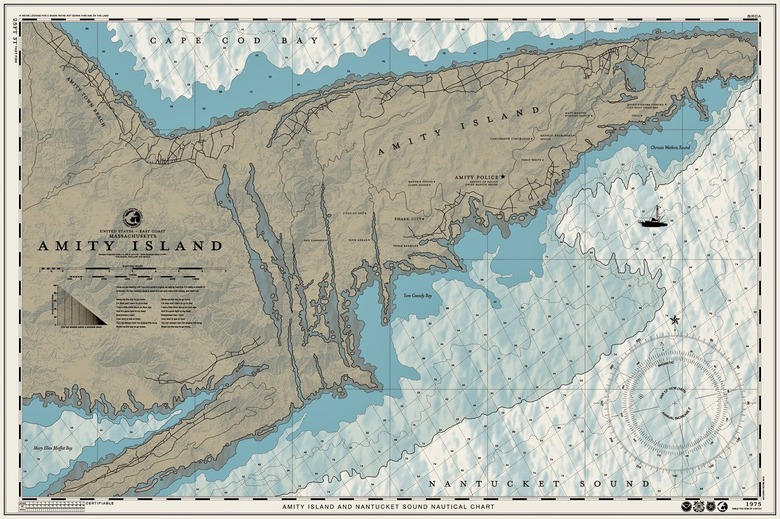 Raiders of the Lost Art, Jaws, Star Wars, Jurassic Park, Ghostbusters, Die Hard – these are some of the most popular films ever made. They also have some of the most recognizable posters of all time. So, as an artist, attempting to make a poster for one is no easy feat. Do you just put everyone's face in the frame? Maybe you try to sum up the story with one image? The options are endless, and sometimes not that appealing.
Artist Anthony Petrie has quietly been perfecting a unique, very cool way to approach well-known films. Over the past year or so, he's been making posters for iconic movies that look like charts or maps of each movie. So, for example, he did Ghostbusters as a New York City subway map, filled with references. Die Hard became a set of Nakatomi Tower blueprints and Aliens became a readout on a motion tracker. Each poster represent these amazing movies in subtle ways, specific to the movie, without going overboard on character likenesses. They showed something more artistic and fun.
January 9 at Gallery 1988 West in Los Angeles, Petrie is presenting a whole new exhibit of new work in that mode. It's called Charts, and he's doing maps for some of the movies mentioned above and many more. Below, check out just a few of the Anthony Petrie Gallery 1988 Charts including an exclusive from a galaxy far, far away.
Charts by Anthony Petrie opens from 7-10 p.m. January 9 at Gallery 1988 West, 7308 Melrose Ave., Los Angeles CA. It remains on display through January 24 and all remaining prints will go on sale January 10 at www.gallery1988.com.
Here are some of the posters in Charts via Things to do in LA. Click on all the images for larger versions.
Charts: Anthony Petrie Gallery 1988 show
And, just for you /Film readers, here's an exclusive debut. I think you know the movie: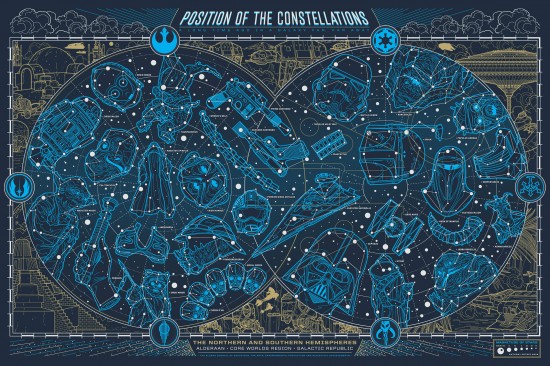 The print is called "The Blue Milky Way" (Regular Version)," and is 36" x 24" Screen-Print Silver and Gold Metallic ink on Night Shift Blue French Paper. It's signed and numbered in an edition of 100 and printed by Seizure Palace.
And this is what the poster looks like in person, which is always different from seeing an online image.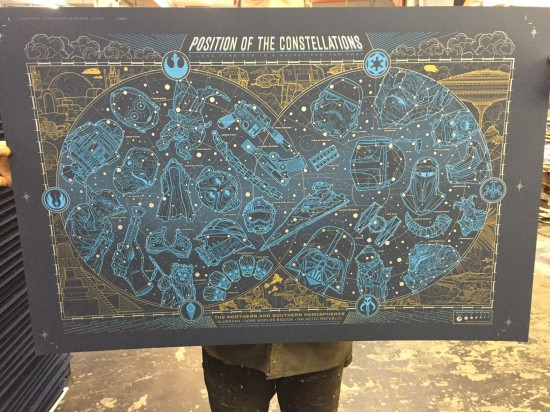 So we've seen Star Wars, Jaws, Jurassic Park, Raiders of the Lost Ark and Willy Wonka. What else is in the show? Here's the full list:
Star Wars
Jurassic Park
Akira
Escape from NY
Raiders of the Lost Ark
Jaws
The Shining
Taxi Driver
The Thing
Willy Wonka and the Chocolate Factory
Petrie also reveals there will be five variants in the show and everything has an edition between 75-100 with prices ranging from $30 to $100.
Finally, if you attend the opening, the artist promises "a couple of other surprises, and something only available at the gallery. It's ridiculous, and something to my knowledge, no one has done before."
That kind of sums up the whole show though, doesn't it? For more of Petrie's work, visit his website.