ACE Editing Award Nominations Highlight 'Whiplash,' 'Nightcrawler,' 'Boyhood'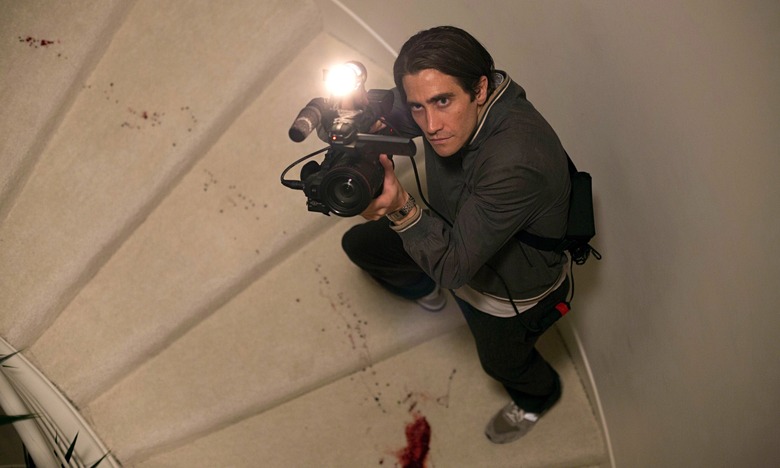 The Oscar nominations aren't out yet, but we're getting to the point where technical guilds will be announcing their nominations for the best achievements of 2014. The latest set to be released comes from the American Cinema Editors, which this morning revealed nominations for their 65th annual ACE Eddie Awards. The ACE Awards recognize achievements in editing in a variety of film (narrative, comedy/musical, and documentary) and TV categories. On the feature side, the big nominations went to American Sniper, Boyhood, Gone Girl, The Imitation Game, Nightcrawler and Whiplash. Get the full editing awards nominations for 2015 below.
Voting for the ACE Awards will conclude on January 21; the awards will take place on January 30.
(Typically there are five nominations in the best feature film categories, but a nomination tie resulted in six options in the Best-Edited Feature Film set this year.)
Here are the nominations, via IndieWire.
Editing Award Nominations 2015
BEST EDITED FEATURE FILM (DRAMATIC)
American Sniper, Joel Cox, ACE & Gary Roach, ACE
Boyhood, Sandra Adair, ACE
Gone Girl, Kirk Baxter, ACE
The Imitation Game, William Goldenberg, ACE
Nightcrawler, John Gilroy, ACE
Whiplash, Tom Cross
BEST EDITED FEATURE FILM (COMEDY OR MUSICAL)
Birdman, Douglas Crise & Stephen Mirrione, ACE
Guardians of the Galaxy, Fred Raskin, Hughes Winborne, ACE & Craig Wood, ACE
Into the Woods, Wyatt Smith
Inherent Vice, Leslie Jones, ACE
Grand Budapest Hotel, Barney Pilling
BEST EDITED ANIMATED FEATURE FILM
Big Hero 6, Tim Mertens
The Boxtrolls, Edie Ichioka, ACE
Lego Movie, David Burrows & Chris McKay
BEST EDITED DOCUMENTARY (FEATURE)
Citizenfour, Mathilde Bonnefoy
Finding Vivian Maier, Aaron Wickenden
Glen Campbell: I'll Be Me, Elisa Bonora
BEST EDITED DOCUMENTARY (TELEVISION)
Cosmos: A SpaceTime Odyssey: Standing Up in the Milky Way, John Duffy, ACE, Michael O'Halloran, Eric Lea
Pauly Shore Stands Alone, Troy Takaki, ACE & Joey Vigour
The Roosevelts: An Intimate History: Episode 3 / The Fire of Life, Erik Ewers
BEST EDITED HALF-HOUR SERIES FOR TELEVISION
Silicon Valley: "Optimal Tip to Tip Efficiency," Brian Merken & Tim Roche
Veep: "Special Relationship," Anthony Boys
Transparent: Pilot, Catherine Haight
BEST EDITED ONE-HOUR SERIES FOR COMMERCIAL TELEVISION
24: "10pm to 11am," Scott Powell, ACE
Mad Men: "Waterloo," Christopher Gay
Madam Secretary: "Pilot," Elena Maganini, ACE & Michael Ornstein, ACE
Sherlock: "His Last Vow," Yan Miles
The Good Wife: "A Few Words," Scott Vickrey, ACE
BEST EDITED ONE-HOUR SERIES FOR NON-COMMERCIAL TELEVISION
True Detective: "Who Goes There," Affonso Goncalves
True Detective: "The Secret Fate of All Life," Alex Hall
House of Cards: "Chapter 14," Byron Smith
BEST EDITED MINISERIES OR MOTION PICTURE FOR TELEVISION
Fargo "Buridan's Ass," Regis Kimble
Olive Kitteridge: "A Different Road," Jeffrey M. Werner, ACE
The Normal Heart, Adam Penn
BEST EDITED NON-SCRIPTED SERIES
Anthony Bourdain: Parts Unknown: "Iran," Hunter Gross
Deadliest Catch: "Lost At Sea," Josh Earl, ACE & Johnny Bishop
Vice: "Greenland is Melting & Bonded Labor," Joe Langford & Nick Carew