Emily Blunt On 'Captain Marvel': Any Interest Is "Very Unofficial"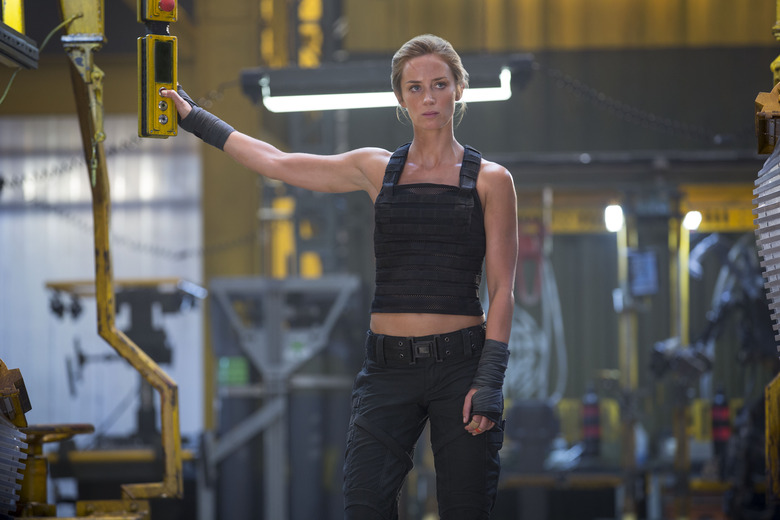 Pretty much the moment Marvel Studios announced Captain Marvel for 2018, Emily Blunt emerged as a fan-favorite pick for the lead. It's easy to see why. She's got the wit and strength to play Carol Danvers, and we know Marvel's noticed her because she's been considered for other roles before.
Blunt has so far gone along with the fervor, gushing that she "loves" the idea. But don't get too excited just yet — the actress admits that no offer has "officially" come her way as of now. Read the Emily Blunt Captain Marvel reaction, along with comments on her previous brushes with Marvel. 
Blunt touched upon Captain Marvel during a chat with Vulture. "No one's offered me that officially, so it's... very unofficial," she laughed. "I think it's fan-casting, which is always very nice. But nothing official has been offered, for sure."
True, that could mean she is in unofficial discussions about the part. Even if that's the case, though, it doesn't mean anything at this point. Marvel casts a wide net — just remember how many actors were considered for Star-Lord or Doctor Strange before those parts went to Chris Pratt and Benedict Cumberbatch, respectively.
However, Blunt does have the advantage of being on Marvel's radar. She previously met with the studio about the roles of Black Widow and Peggy Carter, but obviously, neither casting worked out. Blunt blames it on scheduling:
Yeah, but it was never the right time, really, and it just didn't work out scheduling-wise with those two. It's always a difficult thing to talk about, because it's not fair to the actresses who ended up playing them, you know? It just wasn't the right time.
Then there's the fact that Blunt has real-life hero experience... sort of. She's previously joked about saving Meryl Streep's life during the Into the Woods shoot, though she says the anecdote has "been completely blown out of proportion." Still, she kids, "If I get [Captain Marvel], thank Meryl for it!"
At this moment, it's tough to say how "realistic" the idea of Blunt as Captain Marvel is. As we've pointed out, Marvel clearly likes her, and so do the fans. On the other hand, she may be slightly too old (she'll be 35 when the first standalone comes out) and/or too expensive.
Or even if those don't turn out to be issues, Marvel may just decide it likes someone else better. Do you think Blunt will realistically get the Captain Marvel role?
Captain Marvel opens July 6, 2018.