Sam Raimi Agrees 'Spider-Man 3' Was "Awful"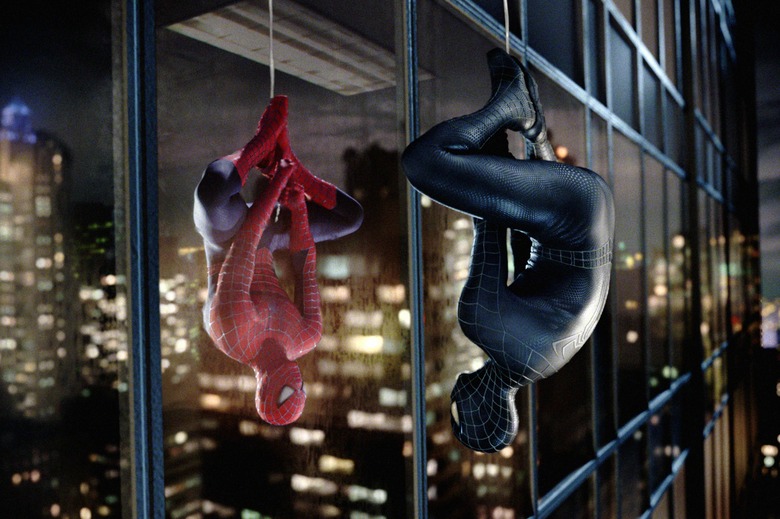 Spider-Man 3 has a lot of detractors, and now you can count its director, Sam Raimi, among them. The director admitted in a recent interview that he "messed up plenty" with the movie, calling the results "awful." Oh, and he doesn't seem to be all that into his own Oz The Great and Powerful, either. Read the Sam Raimi Spider-Man 3 comments after the jump. 
Raimi shared his thoughts on his filmography while appearing on the Nerdist podcast (via Pajiba). "I messed up plenty with the third Spider-Man, so people hated me for years," he acknowledged. "They still hate me for it." The filmmaker then went on to explain exactly what he thinks went wrong with the movie:
It's a movie that just didn't work very well. I tried to make it work, but I didn't really believe in all the characters, so that couldn't be hidden from people who loved Spider-Man. If the director doesn't love something, it's wrong of them to make it when so many other people love it. [...]
I think [raising the stakes after Spider-Man 2] was the thinking going into it, and I think that's what doomed us. I should've just stuck with the characters and the relationships and progressed them to the next step and not tried to top the bar. I think that was my mistake.
Later, when Nerdist co-host Chris Hardwick says, "I don't think that 'bad' is the right word," Raimi shoots back with "Awful!" Still, Raimi says he "loves" Spider-Man and would make another movie "in a second" if he had the right story — it's just that "I wouldn't make that movie."
The director's comments about Spider-Man 3 are more or less in line with my own (and many other people's) complaints about Spider-Man 3. It confused bigger with better, stuffing the plot with extraneous characters and pushing them in weird directions for no good reason.
Raimi isn't letting himself off the hook for Oz The Great and Powerful, either. Nerdist co-host Matt Mira tries to compliment Raimi on the picture, and Raimi simply replies, "I did the best I could."
He's surely not the first director to realize one or two of his films didn't turn out the way he liked, but it's still pretty rare to hear a filmmaker speak so candidly about his failures. Kudos to Raimi for his honesty, and also for knowing when to walk away. He left Spider-Man 4 during development and isn't planning to make the Oz The Great and Powerful sequel either.
You can listen to the full episode at Nerdist. The Spider-Man talk hits around 1:04.