Great Scene From 'The Boxtrolls' Reveals The Magic Behind The Movie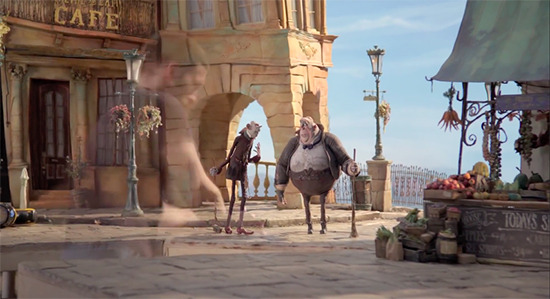 The films from Laika are, in a way, like Richard Linklater's Boyhood — part of the story of the films themselves is the story of how they are made. The process is very different, of course, as Linklater worked for more than a decade on one film, while Laika uses painstaking stop-motion animation to create the illusion of life over a production period that lasts a couple years per film.
We've all seen in-process video of Laika artists at work, but the final shot of the studio's most recent film, The Boxtrolls, illustrates the process in a beautifully meta fashion. It may be The Boxtrolls best scene — and there are no spoilers involved, even for those who haven't seen the film. Check it out below.
Here, we see the characters voiced by Richard Ayode and Nick Frost as they contemplate their existence — and as they are animated by the ghostly time-lapse presence of (I believe) Laika founder Travis Knight. His changes of clothes indicate how many days it takes to animate a sequence like this, and that doesn't account for model and set-building, or development of the facial plates that Laika uses to animate expressions.
The Boxtrolls is on iTunes and other digital outlets now; the Blu-ray and DVD will be released on January 20, 2015.
A family event movie from the creators of "Coraline" and "ParaNorman" that introduces audiences to a new breed of family – The Boxtrolls, a community of quirky, mischievous creatures who have lovingly raised an orphaned human boy named Eggs (voiced by Isaac Hempstead Wright) in the amazing cavernous home they've built beneath the streets of Cheesebridge. When the town's villain, Archibald Snatcher (Academy Award winner Ben Kingsley), comes up with a plot to get rid of the Boxtrolls, Eggs decides to venture above ground, "into the light," where he meets and teams up with fabulously feisty Winnie (Elle Fanning). Together, they devise a daring plan to save Eggs' family.