New 'Yoga Hosers' Photo Has Johnny Depp's Guy Lapointe Front And Center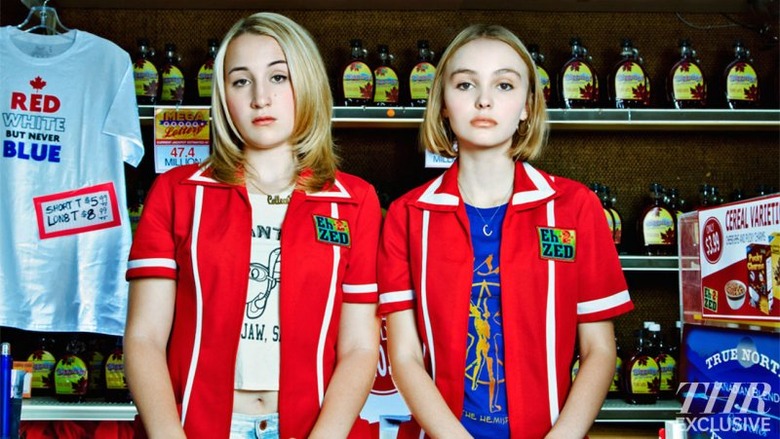 The Internet had a collective freakout when Kevin Smith revealed his clean-shaven look for his next film, Yoga Hosers. But otherwise, so far Yoga Hosers looks a lot like Smith's last film, Tusk. The surly convenience store employees are back. So is the maple-syrup-filled convenience store set. And also returning is Johnny Depp's Guy Lapointe, along with his signature beret.
Check out the first Yoga Hosers Johnny Depp image after the jump.
Smith shared the new Yoga Hosers Johnny Depp pic on Twitter.
50 SHADES OF GUY! Finishing up YOGA HOSERS this week – the @tuskthemovie spinoff in which old friends are reunited... pic.twitter.com/KPpEF0b5KF

— KevinSmith (@ThatKevinSmith) December 30, 2014
The comedy centers on Colleen Collette (played by Depp's daughter Lily-Rose Depp) and Colleen McKenzie (played by Smith's daughter Harley Quinn Smith), two teenage yoga fanatics who work at a Manitoba convenience store. They team up with legendary Montreal man-hunter Guy Lapointe after "an ancient evil rises from beneath Canada's crust and threatens their big invitation to a Grade 12 party."
Depp's Guy Lapointe was kept under wraps during the marketing of Tusk, and it looks like that aura of mystery continues with Yoga Hosers. The new pic doesn't show Guy Lapointe's face. But if you've seen Tusk, you'll recognize his familiar black curls and jaunty beret. And you probably already know what he looks like. Well, unless it turns out Lapointe's been surgically transformed into a walrus or something.
The two Depps and the two Smiths are just a few of the familiar faces returning for Yoga Hosers. Also returning are Michael Parks, Justin Long, Haley Joel Osment, Genesis Rodriguez, Ralph Garman, and Harley Morenstein. New to the cast are Tony Hale, Natasha Lyonne, Austin Butler, Adam Brody, Tyler Posey, and Jason Mewes.
Shooting on Yoga Hosers is underway now in Los Angeles. The comedy is expected to open sometime in 2015. Yoga Hosers is the second in what Smith's Canada-centric "True North" trilogy. The series kicked off with Tusk and will conclude with Moose Jaws (think Jaws, but with a moose).