Simon Pegg And Edgar Wright Approve 'Shaun Of The Dead' Stage Show; See A Trailer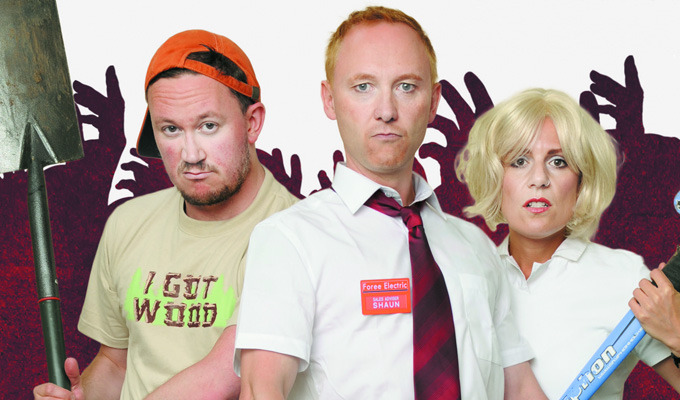 We're still waiting to hear what film director Edgar Wright is doing next, but we know the next step for his first feature. Wright's Shaun of the Dead has been turned into a live stage production by Almost Legal Productions. It premiered in late October of this year but is coming back in the next few months. Both Wright and Simon Pegg, who starred in and co-wrote the film, gave the officially licensed show their seal of approval. The show will be performed all over the UK during 2015 and tickets are on sale now.
Below, see a trailer for Shaun of the Dead Live, including some of the musical numbers and examples of audience participation, and read more about the show.
Shaun of the Dead Live trailer
Trailer via Almost Legal.
A writeup on Chortle explains how Pegg and Wright both gave the show their blessing and has links to get tickets. It's not coming to the U.S yet, but the show is all over the UK during the Spring and Summer of 2015.
Over on the official site of Almost Legal Productions, they have even more info on the show. Head there to check it out, but here's their description of it:
Life is going nowhere for Shaun. He spends his life in his local pub, with his best mate Ed, has issues with his Mum and step-dad and things aren't running too smoothly with his girlfriend Liz. When Liz dumps him, Shaun finally decides to get his life in order. He must win back her heart, repair his relationship with his mum and face up to his responsibilities. Unfortunately, there is a slight problem with the world being taken over by Zombies. For the newly inspired Shaun, this is just another obstacle. In the face of a full scale ZOMBIE EPIDEMIC, armed with a cricket bat and his best mate with a spade, Shaun & Ed go to rescue Liz, her friends, mum and grudgingly his step-dad, and take them to the safest most secure place he knows.
Belief from Simon Pegg and Working Title together with Universal Pictures is about to put Almost Legal Productions on the map. They cut their teeth with several of the most difficult to stage productions. This has enabled ALP to work extensively on adapting one of the most all out zombie UK comedy favourites to stage. With audience participation, goody bags with all the kit required to take part, songs and dances, ALP are set to bring you life after death!