See Concept Art For The 'Bioshock' Movie That Was Sunk During Development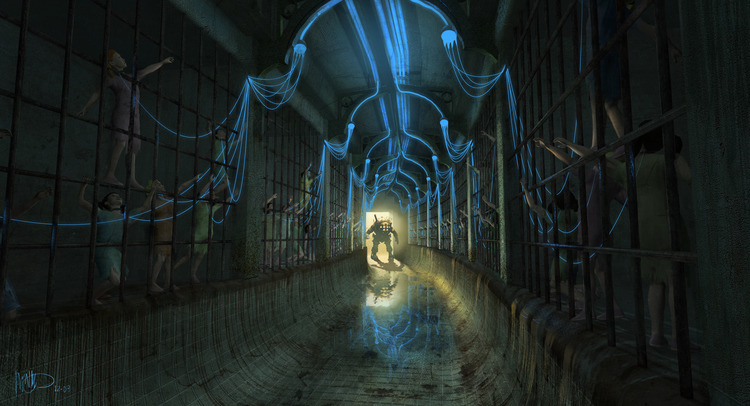 Bioshock is a perfect concept for a game, and a difficult proposition as a narrative film. The game, played from a first-person perspective, features a largely anonymous protagonist in a massive underwater city, where armored enforcers protect little girls whose bodies have been surgically... embellished to generate a mutagen that can push human DNA into radical new shapes.
So while Universal once had Gore Verbinski (Pirates of the Caribbean) set to direct a big-screen adaptation, that effort eventually sank under the weight of all the many factors that made the movie seem like a long shot in the first place. But some unused Bioshock movie concept art is making the rounds, and though it you can see familiar game concepts imagined for the screen.
This art comes from the online portfolio of illustrator Kasra Farahani, who worked on films such as Thor and Star Trek Into Darkness. There, Farahani has offered up a batch of unused Bioshock movie concept art. (via Blastr)
One selection of concept art, of course, does not give an accurate impression of how the film might have developed as a whole. But one thing apparent here is the way that the underwater nature of the story's location could have been minimized for many scenes, and suggested with CG window treatments.
That underwater setting was only one of the story's many hurdles that prevented a film from being realized. More difficult was the nature of the story itself, and the battle over a rating — the R rating that a serious adaptation of the game would generate would be at odds with the required budget, making Bioshock almost a certain folly right from the start.