/Filmcast Ep. 300 - The Top 10 Films Of 2014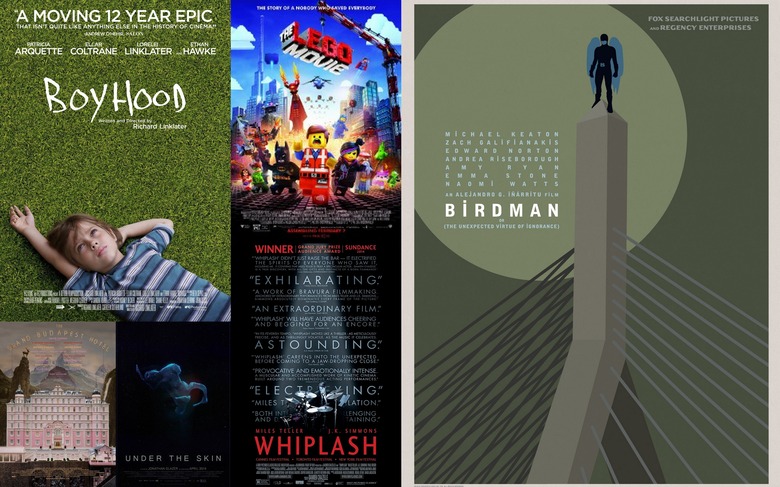 David, Devindra, and Jeff count down their top 10 films of 2014. Thanks for a great year, everyone! We'll see you in 2015.
You can always e-mail us at slashfilmcast(AT)gmail(DOT)com, or call and leave a voicemail at 781-583-1993. Also, like us on Facebook!
Download or Play Now in your Browser:Subscribe to the /Filmcast:
Jeff's Top 10:
1. The Lego Movie
2. Birdman
3. The Grand Budapest Hotel
4. Boyhood
5. Gone Girl
6. Whiplash
7. The One I Love
8. Obvious Child
9. Dawn of the Planet of the Apes
10. Interstellar
Devindra's Top 10:
1. Under the Skin
2. Boyhood
3. Only Lovers Left Alive
4. Gone Girl
5. Whiplash
6. Nightcrawler
7. Interstellar
8. The Grand Budapest Hotel
9. The Babadook
10. Snowpiercer
David's Top 10:
1. The Babadook
2. Dawn of the Planet of the Apes
3. Birdman
4. Nightcrawler
5. The Raid 2: Berandal
6. Gone Girl
7. Under the Skin
8. Blue Ruin
9. Edge of Tomorrow
10. Grand Budapes Hotel
Credits
Our music sometimes comes from the work of Adam Warrock. You can download our theme song here.
If you'd like advertise with us or sponsor us, please e-mail slashfilmcast@gmail.com.
Contact us at our voicemail number: 781-583-1993
You can donate and support the /Filmcast by going to www.slashfilmcast.com and clicking on the left-hand side "Donate" links! Thanks to all our donors this week!