New 'Daredevil' Info Explains MCU Connections, Hell's Kitchen, Kingpin And Bullseye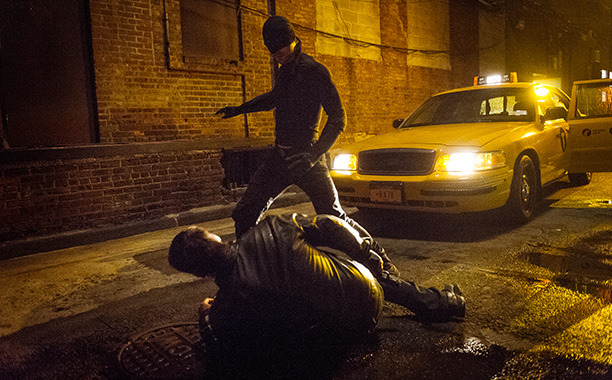 Not only is 2015 going to bring us two new Marvel Studios movies, we get at least two (and maybe more) brand new Marvel TV shows. The first comes upon us pretty quickly, Agent Carter. A few months later, a full season of Daredevil will be available on Netflix. Daredevil, which stars Charlie Cox, Rosario Dawson, Vincent D'Onofrio and others, is the first of four Netflix Marvel shows that will eventually lead to The Defenders.
Outside of that, we don't know a ton about the show. That's starting to change, however. In a new piece by Entertainment Weekly, head of Marvel TV Jeph Loeb, showrunner Steven S. DeKnight and Cox offer up some new info on the show. We find out a bit about its tone, its Marvel Cinematic Universe connections, important of the evil Kingpin and the likelihood we'll see another villain, Bullseye, at some point. Read the Daredevil Netflix update below.
The full article is on Entertainment Weekly, so head there for that. Here are a few of the most important facts.
Daredevil will take place only in Hell's Kitchen, and the neighborhood is almost a character in the show.
The tone they were going for was more alone the lines of The Wire than a traditional superhero show.
It's definitely rooted in the MCU so all the other characters exist.
Though Netflix does not have content restrictions, Daredevil won't have graphic violence.
Bullseye isn't in this season, but DeKnight hasn't ruled him out in the future.
As important as Daredevil is to the show, Kingpin's journey will be equally important. "This season is about both the rise of the hero and the rise of the villain," said Loeb. DeKnight adds "Fisk has very many different aspects so it's not all, 'I want to conquer the city and make a lot of money.' In our story, we tell the story of how he met his wife Vanessa and how they fell in love — our antagonist actually has a love story. That's the love story you're following, the one you're invested in, and seeing how that affects him and changes him. I think Vincent just brings such depth to it, his performance is just astounding."
I like the idea of the Fisk story happening at the same time as Murdock's. What I don't like is if Daredevil happens and there's no immediate New York City fallout or mention of the events at the end of The Avengers. (Or, potentially, whatever fallout happens in Avengers: Age of Ultron depending on the release date.) Even if the show is set in only Hell's Kitchen, people talk about world events right?
Either way, I'm very excited to see what happens with Daredevil and the rest of this Marvel Netflix slate in the coming months. What about you?