'That's What I'm Talking About' Picks Up Where 'Boyhood' Left Off, Says Richard Linklater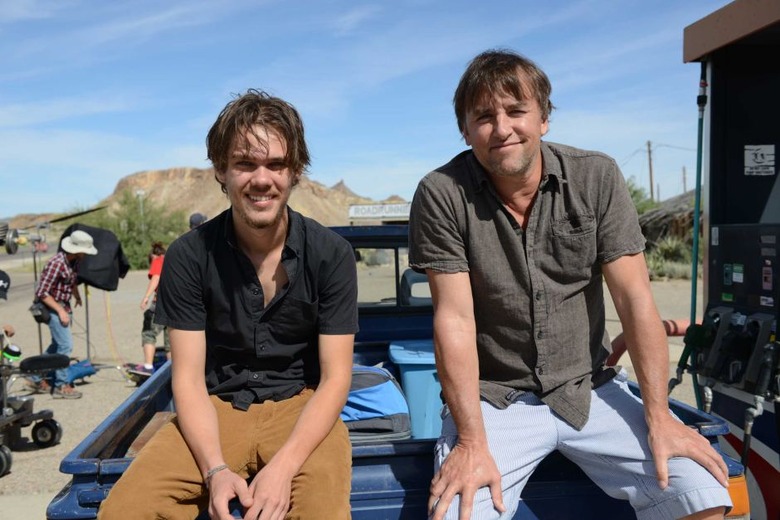 Richard Linklater has long touted his next film, That's What I'm Talking About, as a "spiritual sequel" to 1993's Dazed and Confused. But now he reveals it's also a "continuation" of sorts to another of his hits, the recent Boyhood. "It begins right where Boyhood ends," the director explained. Find out what he means after the jump. 
Linklater commented on the That's What I'm Talking About Boyhood connections to Creative Screenwriting.
Well, I think the word "spiritual" gets me off the hook. I just shot it and wrapped it recently, and it has nothing to do with Dazed and Confused other than it would be set four years later, when one of the younger characters went off to college. It's a party film. It's really about the beginning of school, not the end of the school year. I guess personally or autobiographically it's kind of in that realm, but it's also a continuation of Boyhood, believe it or not. I don't know if one film can be a sequel to two different movies, but it begins right where Boyhood ends with a guy showing up at college and meeting his new roommates and a girl. It overlaps with the end of Boyhood.
To be clear, it's not that That's What I'm Talking About reveals the next 12 years of Mason's life. Nor are we talking about some sort of Marvel-style Linklaterverse (and thank God for that). It's simply that whereas Boyhood ended with Mason arriving at college, That's What I'm Talking About will pick up with a kid beginning his freshman year. It seems likely there'll be some tonal and thematic similarities as well.
The comparisons certainly set the bar high for That's What I'm Talking About. Dazed and Confused is still one of Linklater's most beloved films, and Boyhood is arguably his crowning achievement. But Linklater's never better than when he's exploring time and memory and the way people grow and change. His movies have a way of inspiring nostalgia, not by sugarcoating the past but by capturing the way it felt when we were actually living it.
Linklater himself sums up his use of time pretty well. "There's a time element to all of our lives just inherently and the way we process every day," he said, "so I think in a lot of my storytelling methodologies time has largely replaced the notions of what a plot is, which to me feels kind of constructed."
That's What I'm Talking About is expected to open sometime next year. Tyler Hoechlin, Zoey Detuch, Ryan Guzman, Blake Jenner, Will Brittain, and Wyatt Russell star. (Those names may not be too familiar now, but if That's What I'm Talking About is like Dazed and Confused they might be a lot bigger in a few years.) The story is set in the early '80s and involves a college freshman getting involved with the school's baseball team.