Maybe 'Shazam' Is Part Of The DC Movie Universe After All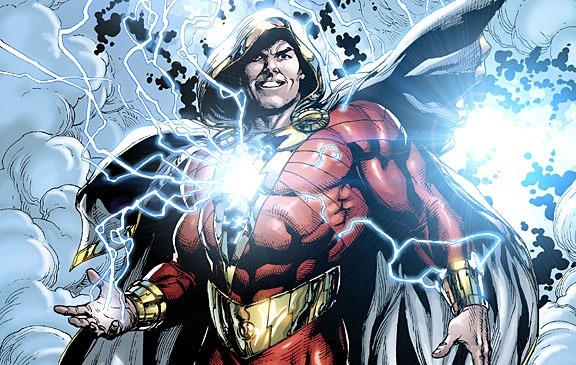 So is Shazam part of the DC Movie Universe, or not? We originally thought it might be, but the film is from New Line rather than Warner Bros. proper, and comments from New Line head Toby Emmerich have suggested Shazam might be off on its own. But now a new post from DC has led people to thinking that the character Shazam is part of the same universe that also features Batman, Superman, and Wonder Woman — which naturally has us wondering if he'll fit into the big Justice League story after all. So, first off, is the big question: Is Shazam in the DC Movie Universe as an active group participant, or not?
A quick recap: Dwayne "the Rock" Johnson teased for months that he would be part of a DC Comics film, and was ultimately revealed as Black Adam, the villain in Shazam. Then Shazam was part of the big DC Comics movie lineup announcement from Warner Bros. in October. But Toby Emmerich eventually said,
It feels to me like Shazam will have a tone unto itself. It's a DC comic, but it's not a Justice League character, and it's not a Marvel comic. The tone and the feeling of the movie will be different from the other range of comic book movies.
Then a DC Comics post said the following:
For fans who were hoping to see a DC Cinematic Universe similar to what they've seen from other publishers, one that included super heroes other than Superman or Batman, there didn't seem to be a lot to talk about. That changed on October 15, 2014, when Warner Bros. revealed a full slate of ten DC Entertainment feature films all set within the same universe.
Thin? You bet! What do the people who write DC Comics blog posts know about the movie developments? At Marvel, they actually know quite a lot, so we're not writing any possibility off.
And if Shazam is part of the DC Movie Universe, that'll potentially have a big effect on the Justice League story, as Shazam would be one of the most powerful characters who might be a part of that story. But Emmerich's comment still seems like the definitive one, so Shazam could be part of the DC Movie Universe in a grand sense, but not play into Justice League. It could be an effort further in the future that sees the character incorporated into a bigger scheme.
And while we're on the subject of things possibly being part of the DC Movie Universe, there's Matt Ryan and his character John Constantine, from the NBC show Constantine. (The show has not yet been renewed for a second season.)
Someone asked Ryan about teaming up with bigger DC heroes, and he said "I'm not sure. The show's made by Warner Bros., which has the deal with DC, and it's licensed to NBC, so I don't know how the ins and outs of that work. But as an actor, how amazing would that be to do a crossover?"
But there's the potential film Dark Universe (or Justice League Dark), being written and possibly directed by Guillermo del Toro. Constantine features in that, and we don't know (a) if the film will be made and (b) if there's any chance Ryan might bounce from TV to film. (Most actors haven't done that for DC characters so far.) Guillermo del Toro has said,
What I made clear to them is that the TV series will not affect the movie and they said that's okay. They said you can have independence. Now, if we see the TV series and we can mesh with it or cast the same actor depending on where the movie is going, I would be happy to consider that.